[ad_1]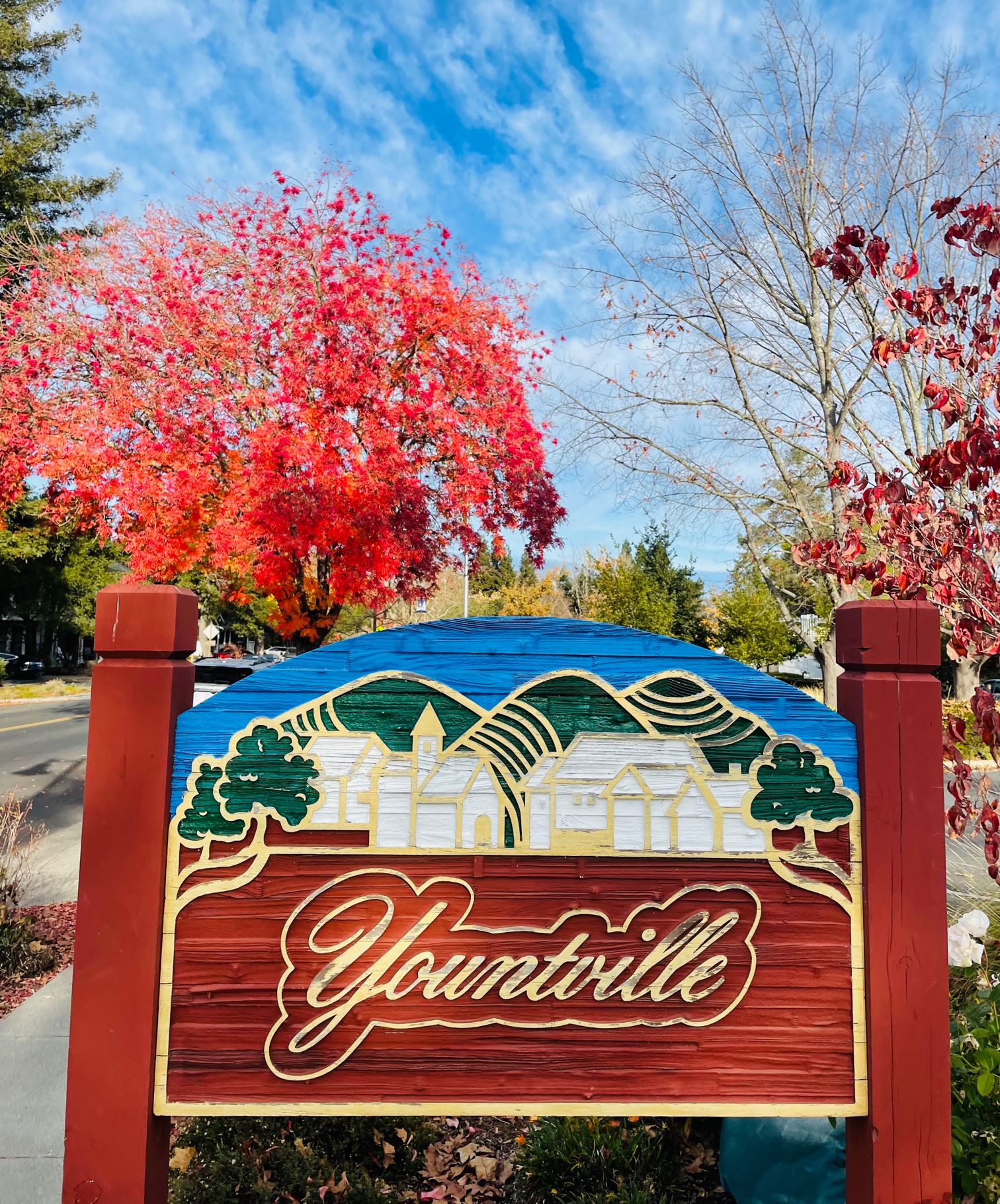 Jill Weinlein
Summer is one of the busiest times in Yountville, CA. The streets are filled with tourists, hotel rooms are at a premium, and dinner reservations are harder to obtain at many of the award-winning restaurants. 
During the fall season, after the grapes have been harvested and winter is approaching, the 1.5 square mile town is quieter during the week, and is one of the best seasons to visit Napa Valley. The trees and grape leaves have turned from green to their quintessential fall colors of yellow, orange, red, and brown.
The streets have fewer cars on weekdays, and the sidewalks are easier to navigate to see 35 sculptures on the Yountville Art Walk. Hop on bicycles to taste wine, see cows grazing in open fields, and explore the bucolic wine countryside.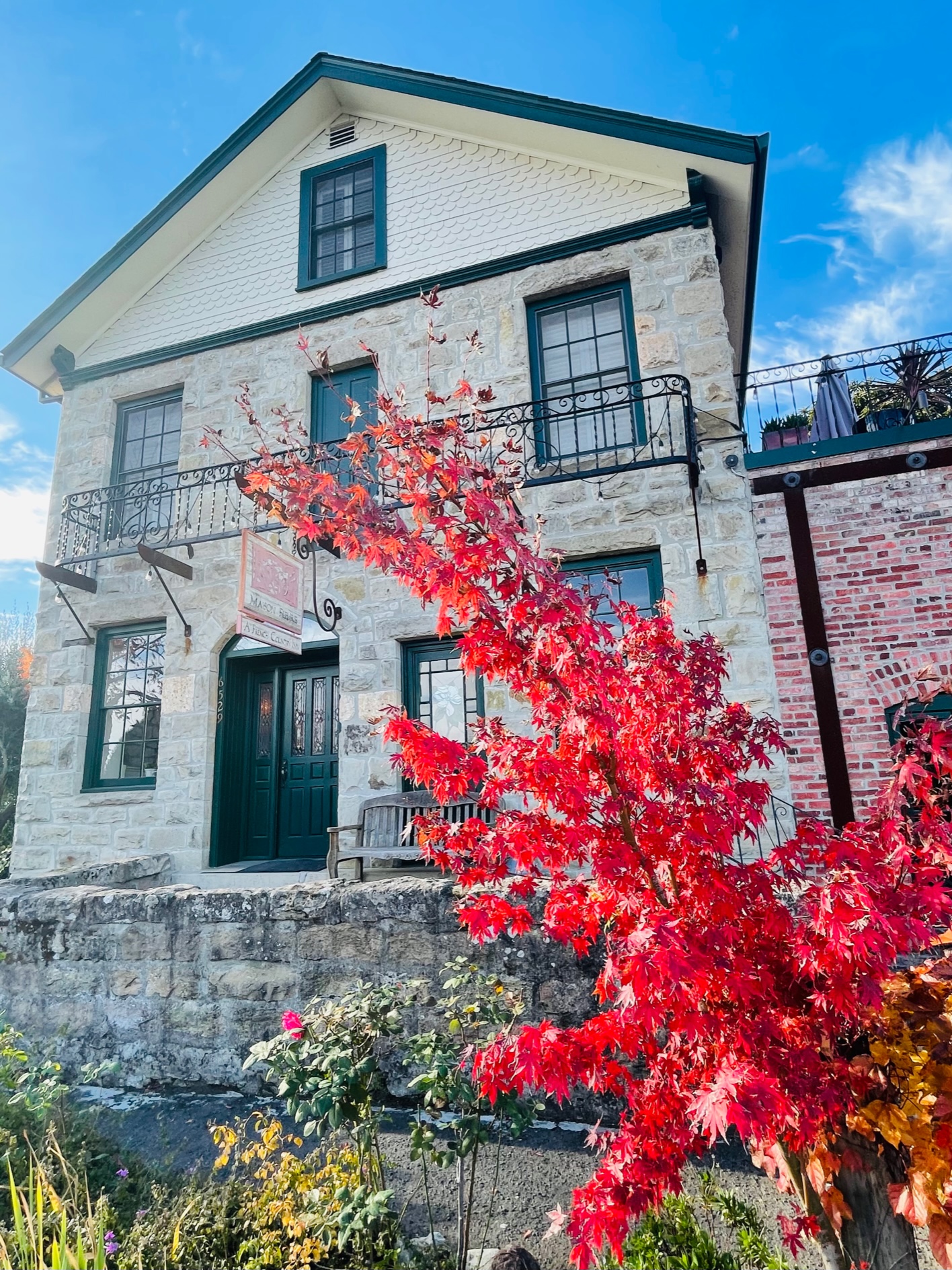 Jill Weinlein
Four Sisters Inns aquired a historic boutique hotel in 1993, located just behind Thomas Keller's Bouchon Bakery. The Inn's lavish gardens have an array of colorful leaves and blossoms reflective of its name, Maison Fleurie translated in English to 'flowering house.'
Not only is the oldest hotel in Yountville, but also in Napa Valley. Built in 1873, as the Magnolia Hotel, it was constructed with stone from nearby quarries, and then bricks were added a few decades later from a demolished church. The charming balcony was added when acquired from a French Hospital in San Francisco.
Besides a place for travelers in the early days, since it is centrally located in town near the railroad, this charming building was once a saloon and bordello.
When the Four Sisters Inns extensively remodeled the hotel, they kept the historical integrity. Designers carefully preserved the stones and bricks, and they filled the interior charming decorative items to enhance the European feel of the bed and breakfast.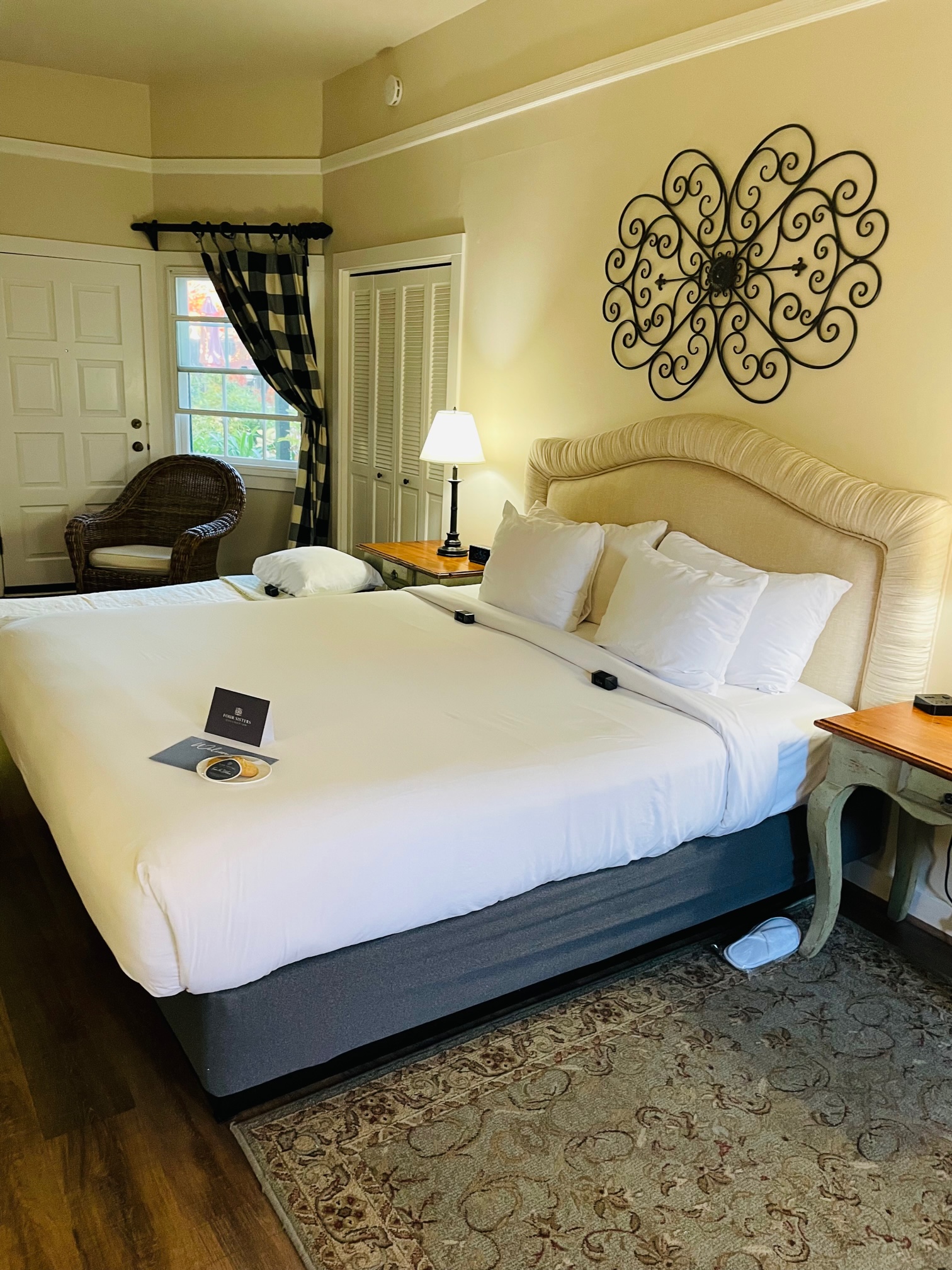 Jill Weinlein
Reminiscent of the South of France, the main lobby and gathering room offers finely crafted furniture, rich fabrics, and a fireplace warming the ambiance of this historic main building.
There are 13 guest rooms that include spacious rooms in the Bakery Building. The King Spa rooms have a large bed with soft linens. The bottom floor has two entrance doors and a small patio. One door leads out to the gardens and large hot tub, and the other leads to the pool and beyond.
A fireplace is near a sitting area and large flat-screen television. The spacious bathroom offers a jetted spa tub and shower. Cozy robes and slippers enhance the spa feel. 
The Carriage House offers stylish guest rooms, and there is a cozy Petite Queen brick walled guest room, and a Garret Queen room upstairs in the main house that is ideal for one or two people.
Besides a signature breakfast in the main house each morning, guests can enjoy mid-day freshly baked cookies, and come back in the late afternoon for wine tasting, crackers, cheese, nuts and fruit. Hot tea and coffee are always available throughout the day and evening.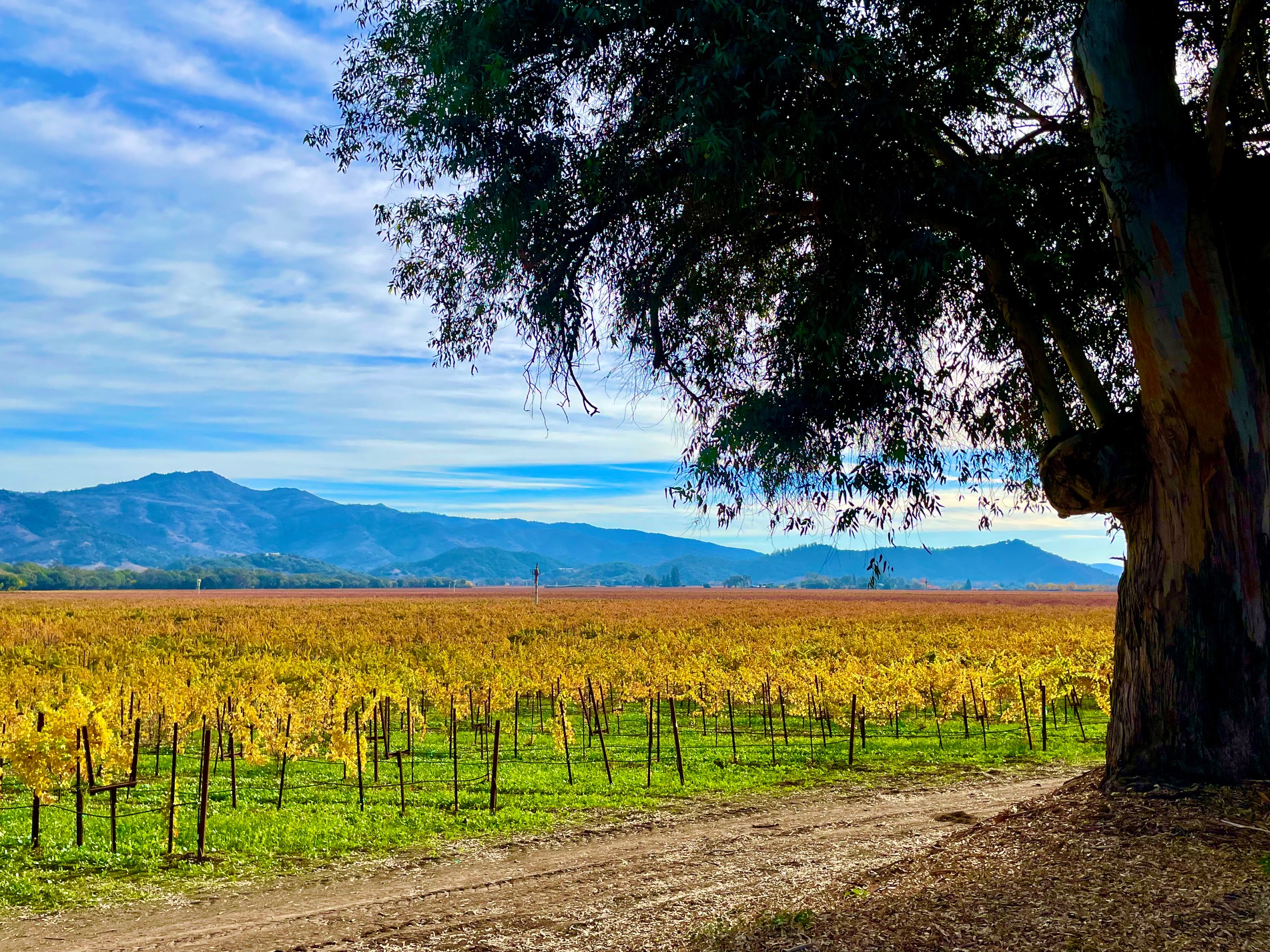 Jill Weinlein
Napa Valley is not only one of the most unique and beautiful destinations to visit in California, according to Natalie Collins, Interim President of the California Association of Winegrape Growers, "The vineyards of California are not only iconic postcard images of our state's splendor, but also cradles of economic growth and pillars to many communities around the state." 
A new report commissioned by Wine Institute and the California wine and winegrape sector and allied businesses deliver a total of $73 billion annually to the state's economy and $170.5 billion annually to the U.S. economy. California wineries and vineyards also, directly and indirectly, generate 422,000 jobs in California and 1.1 million jobs across the nation. "The report offers a testament to the hard work and commitment of California's wine-grape growers and vintners in building and preserving a truly sustainable economic driver," said Collins. 
Some of the wineries in Yountville to visit include the newer boutique Mira Winery for robust reds and unique white wines. In town is the Jessup Cellars wine tasting inside a spectacular art gallery. Nearby at Handwritten, wines highlight the winery's unique expressions of Cabernet Sauvignon.
Priest Ranch in Saint Helena has a tasting room in downtown Yountville too. Tastings of Grenach Blanc to red blends are offered to visitors. Walk over to Hope & Grace for tastes of Pinot Noirs from the Santa Lucia Highlands. These are served in their downtown Yountville tasting room along with Cabernet Sauvignons, Malbec, Sauvignon Blanc, Chardonnay and Dry Riesling.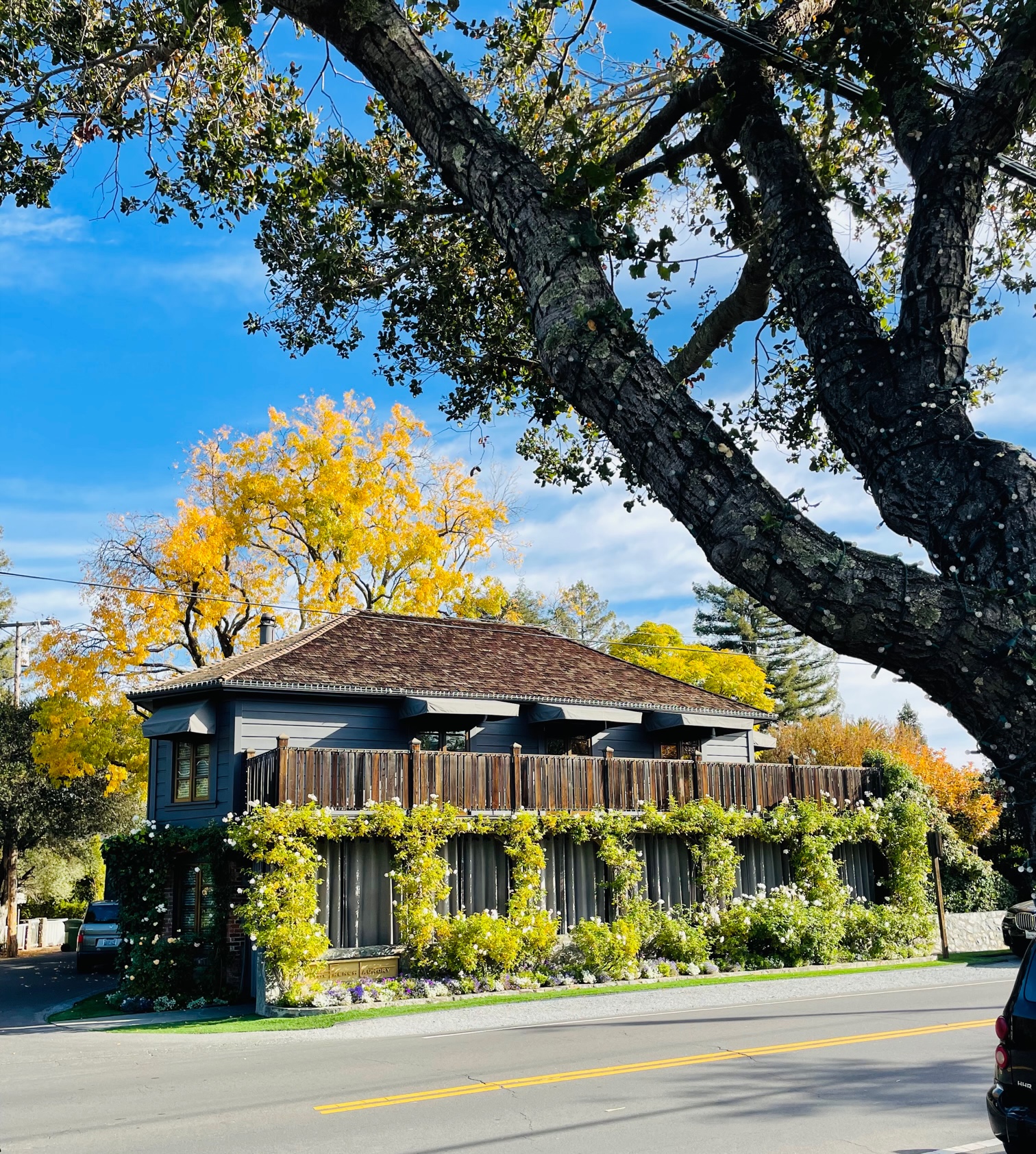 Jill Weinlein
While bicycling through town, be sure to stop across the street of the famous French Laundry Restaurant to stroll through Thomas Keller's 3.5 acre garden. It's the main source for produce used in the French Laundry kitchen to prepare its 3-star 2021 Michelin Guide worthy menus. Dinner service is seven-days a week starting at $350 plus add ons and wine pairing. Guests are welcome to bring their own wines from their day of tasting; however the restaurant will charge a $200 fee for each 750ml bottle.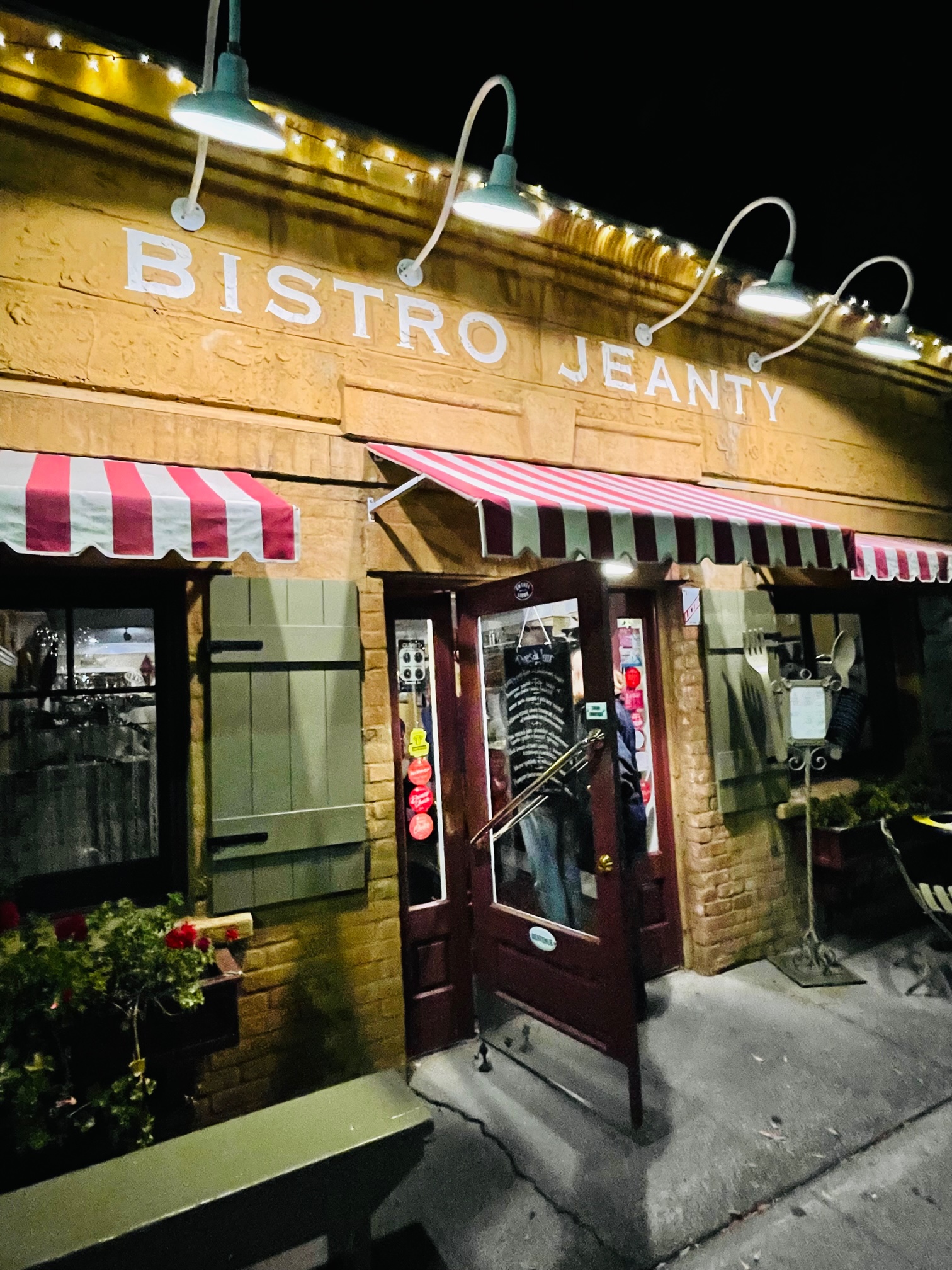 Jill Weinlein
For a more casual dining experience in Yountville, the French Bistro Jeanty offers home-style cuisine such as Coq au Vin, Croque Madame, Steak Tartare, and Crepe Suzette. Corkage is $25 for the first 750ml bottle.
Other popular dining venues include Bouchon Bistro, Ad Hoc + Addendum, and the Italian Bottega by Michael Chiarello. Located in the V Marketplace, order his Brussels spout salad with pecorino cheese and Meyer lemon dressing, and one of the homemade pastas or grilled proteins.
Step into the nearby Kollar Chocolates for a sweet treat and to bring back and enjoy at Maison Fleurie.



[ad_2]

Source link