[ad_1]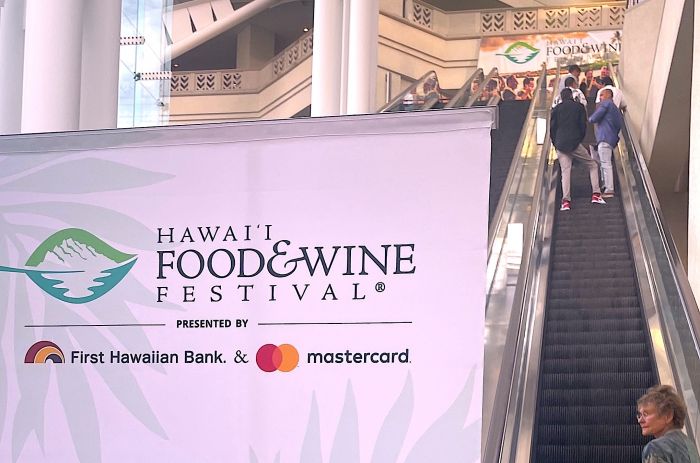 Photo by Michael Reiss
Most vacationers think of Hawaii for sun, surf, sand, and shave ice. Savvy visitors know that there is so much more to these islands in the sun. They soak up the Hawaiian culture, the relaxed vibe, the luxurious resorts, unparalleled nature, and the international cuisine. Many plan their holiday around the Hawaii Food and Wine Festival held annually in the Fall over several weeks and on three separate Islands.
We reveled in the four days of the festival held in Honolulu. Thursday night took us to the top pool deck of the Alohilani Waikiki Resort to meet and eat the renowned fare created by Iron Chef Masaharu Morimoto.  Equally recognized chef friends assembled from around the globe to celebrate the "Year of the Tiger" by fashioning innovative Asian dishes with cocktails to enhance and make the palate sing.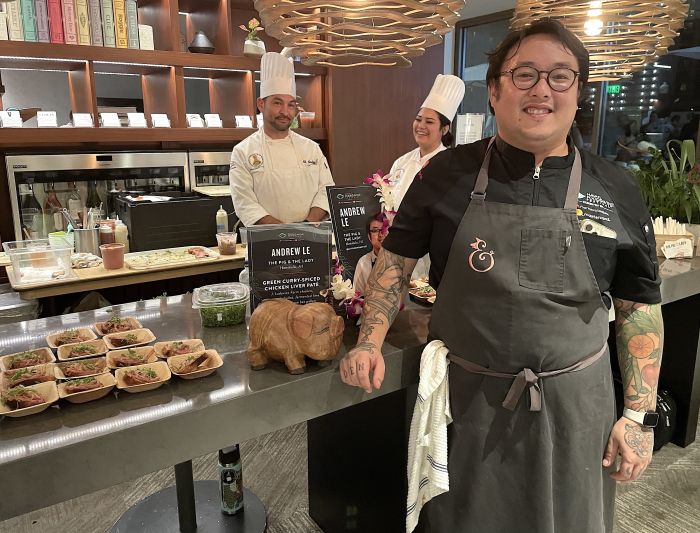 Photo by Michael Reiss
Among our favorite bites was the Green Curry-Spiced Chicken Liver Pate created by Andrew Le from The Pig and The Lady Restaurant in Honolulu.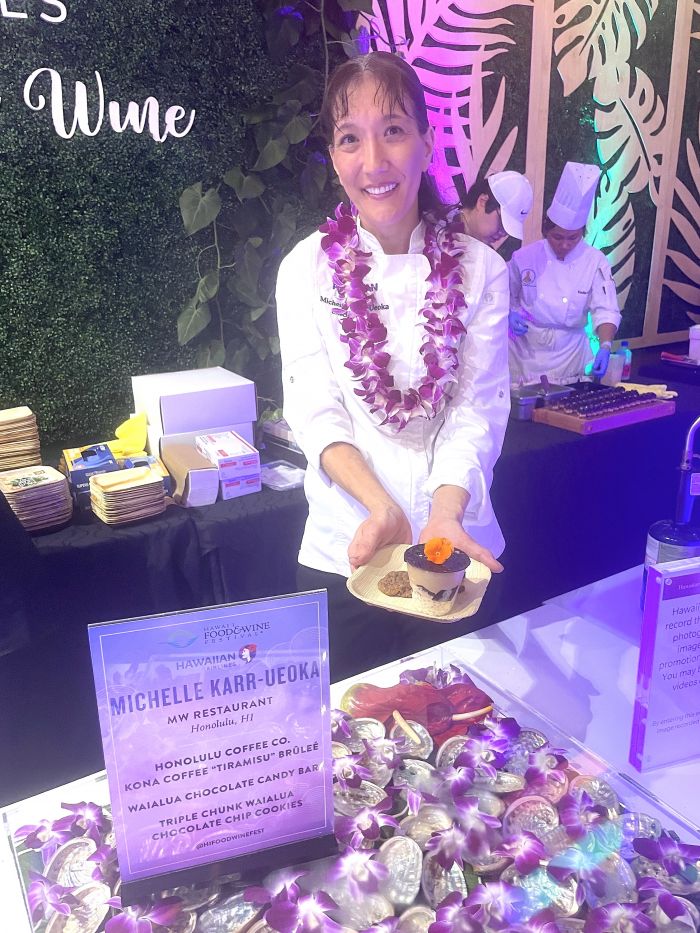 Photo by Michael Reiss
On Friday night, twenty renowned wine makers and twenty top chefs joined forces at the Hawaii Convention Center to delight oenophiles and gourmets with their creative collaborations. Cocktails and beer were also designed to offer something for every taste. Michelle Karr-Ueoka from MW Restaurant in Honolulu sweetened our palate with Kona Coffee "Tiramisu" Brulee.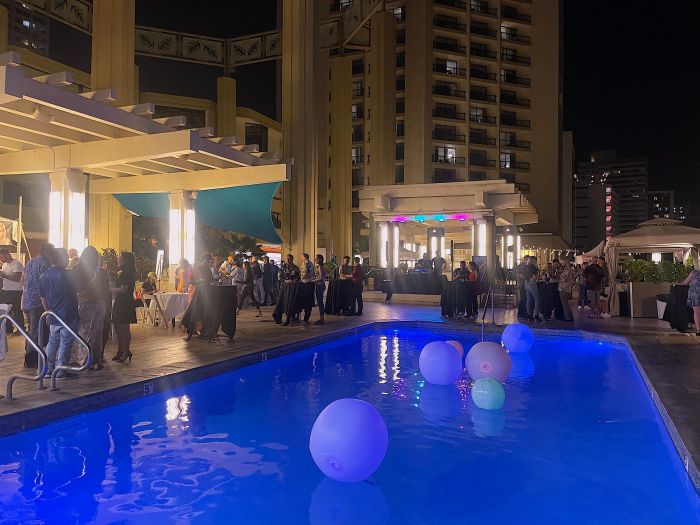 Photo by Michael Reiss
If that wasn't enough to sate your appetite, the after party held on the rooftop of the Hyatt Regency Waikiki offering craft cocktails and next level bites from five top chefs was just what the gourmand ordered to end a perfect gustatory evening.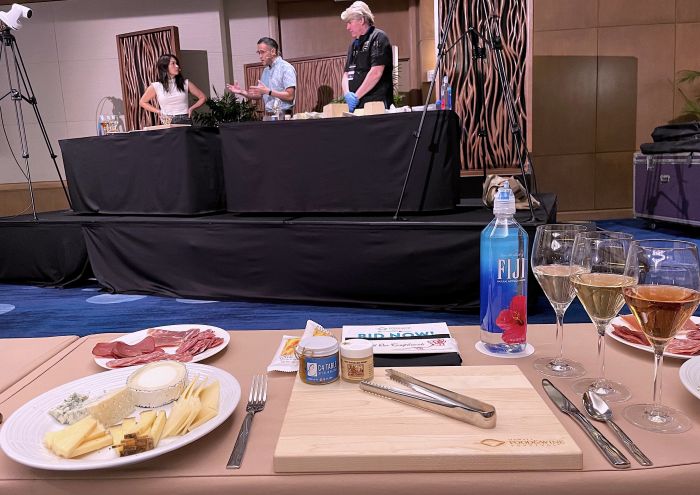 Photo by Michael Reiss
Saturday morning had us rise and shine to the subtleties of crafting a crowd-pleasing cheese and charcuterie board. From selection, to cutting, to assembling, to garnishing to pairing with the right wines, we learned it all. And after all, we took our own assembled boards home to impress our friends.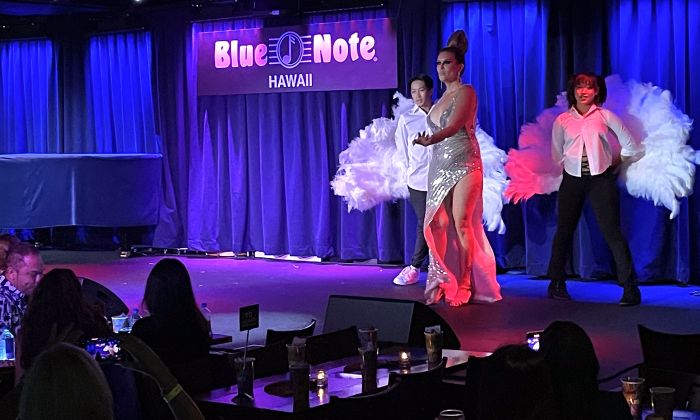 Photo by Michael Reiss
Sunday morning brought out the Drag queens for a show stopping performance to match the sensational savory brunch bites and boozy beverages on offer.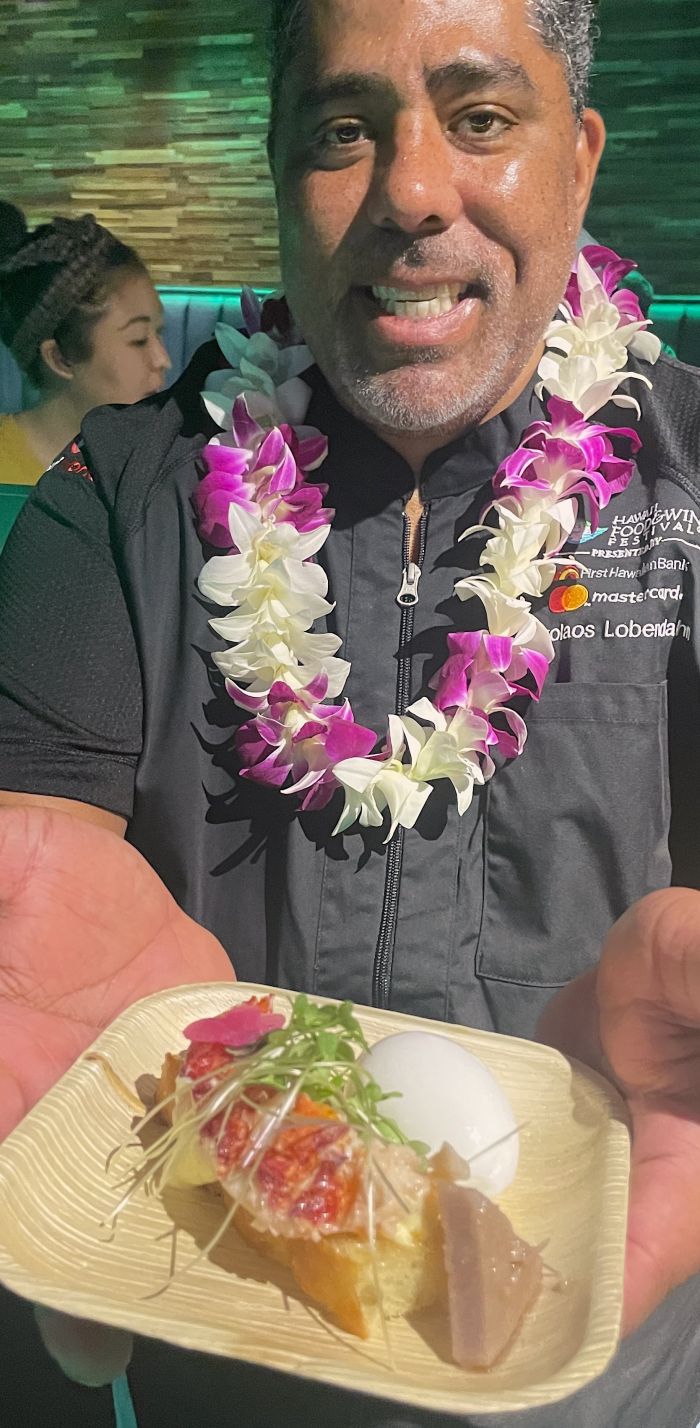 Photo by Michael Reiss
Among the tasty morsels was Butter Poached Kona Cold Lobster, Local Wetland Kale and Hollandaise called "Mother's Toast," created by Nikolaos Lobendahn of Easy Que in Kailua, HI.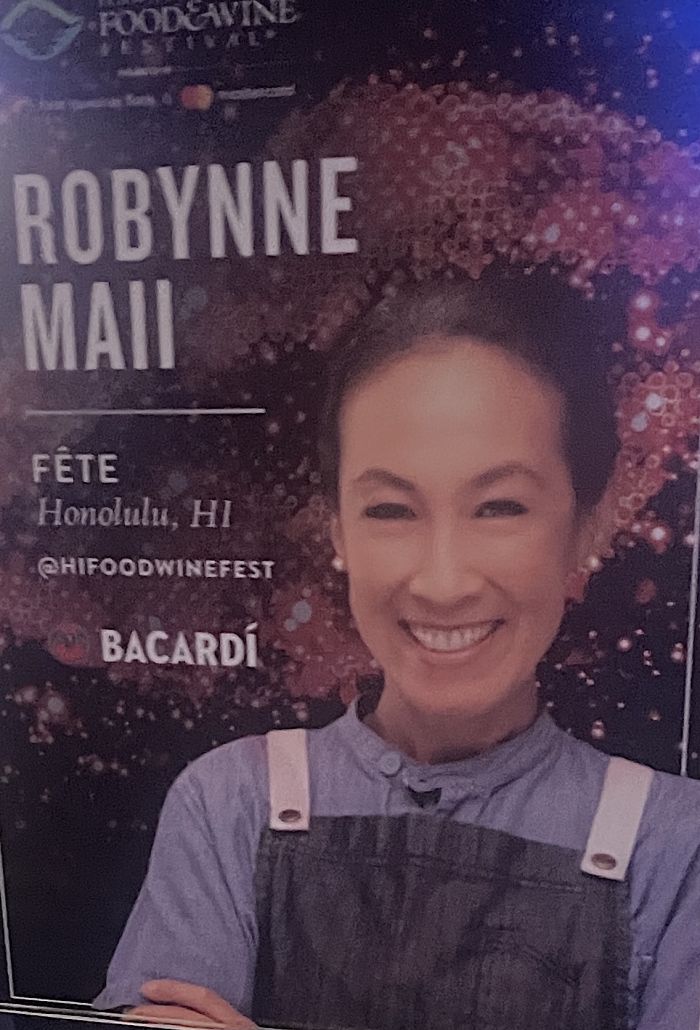 Photo by Michael Reiss
Among the participating chefs was Chef Robynne Maii of Fête. For the first time in nearly 20 years, Hawaii won a James Beard award for Best Chef of the Northwest and Pacific region in 2022 honoring Chef Maii.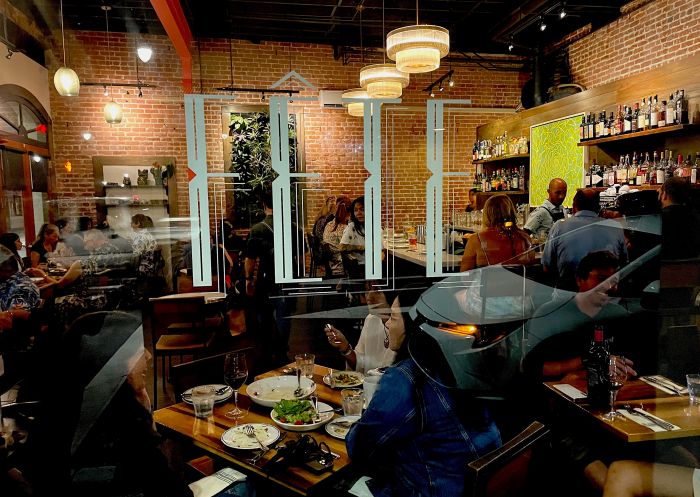 Photo by Michael Reiss
Fête, located in an historic Chinatown building, is rooted in the local farm to table movement and features seasonal New American dishes. Each creation coming out of the kitchen looked more appealing than the last and in fact each dish was full of flavor, exquisitely spiced and mouthwatering.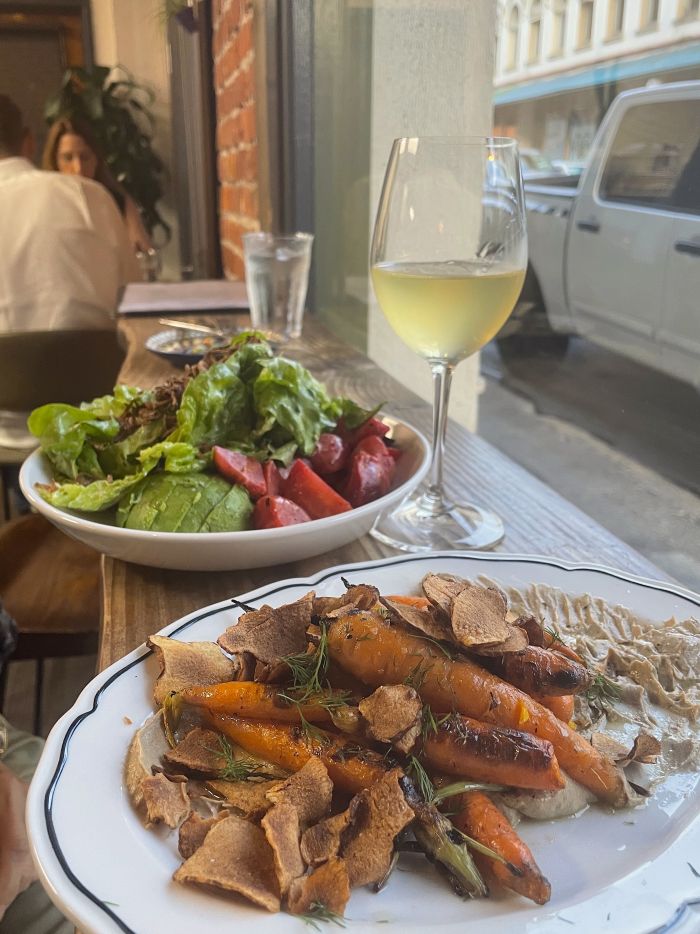 Photo by Michael Reiss
Our ride share driver urged us to try the local pork ragu and indeed it was noteworthy as were the charred carrots, beet salad and twice fried Ludovico chicken special stuffed with herbs and foie gras. The beverage offerings and cocktails were curated with care and paired well with the dishes. Fête delivers on its well-deserved recognition.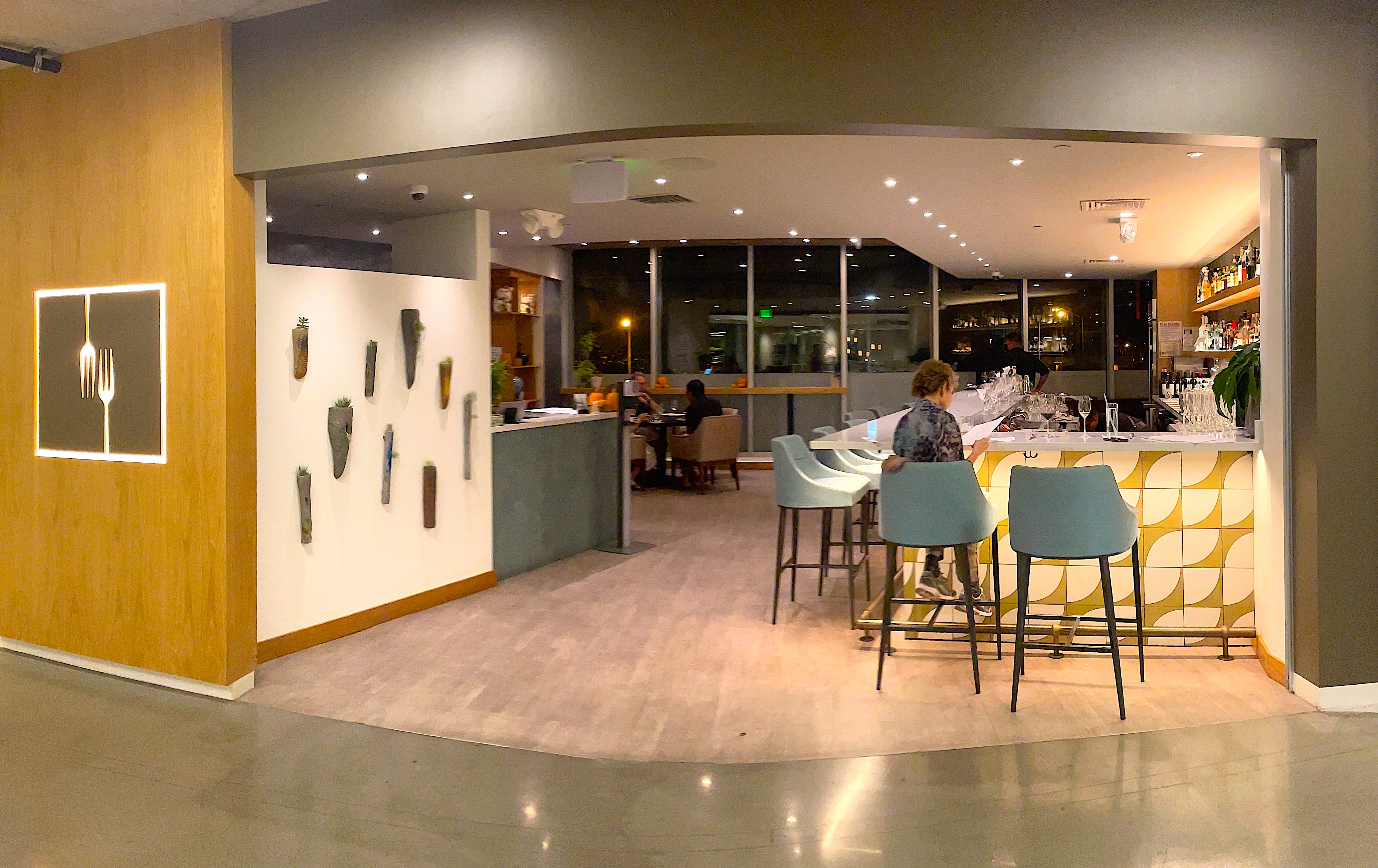 Photo by Michael Reiss
Located in a stylish space in the Velocity Honolulu Building, MW Restaurant, named for the initials of the talented husband and wife team, Michelle and Wade is a Michelin Starred experience.  Prepare to savor Pacific Rim cuisine that is creative, deftly and deliciously executed, and served by a passionate, professional staff. We opted for the Five Course Tasting Menu to sample some of Chef Wade's signature dishes enhanced with thoughtfully paired wine selections.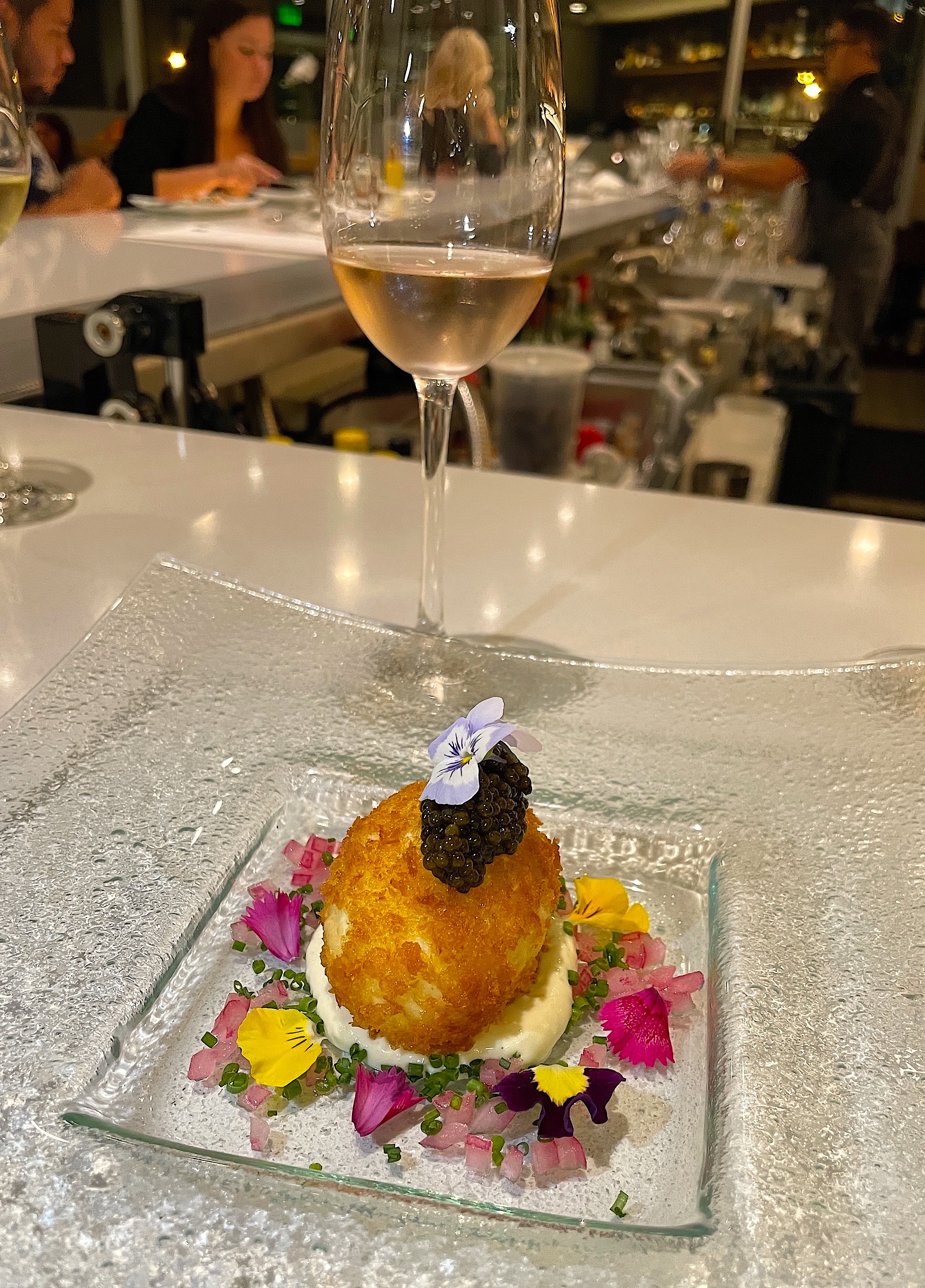 Photo by Michael Reiss
The supplemental addition of the Regiis Ova Caviar, a Fried OK Farms Egg with Wasabi Koji was a decadent indulgence worth the extra charge. The Five Small Bites appetizer paired with a Tasmanian Sparkling wine set the bar high for the rest of the courses. 
The signature Mochi Crusted Hawaiian Kanpachi drizzled with soy yuzu vinaigrette, paired with an Italian DOC Pinot Grigio lived up to its reputation. The Kona Abalone and Kauai Shrimp Uni Pasta followed by the Brandt Brand Beef Tenderloin continued to impress. Needless to say, Master Pastry Chef Michelle's Kohana Rum Coffee & Crème Brulee took the cake and capped a culinary tour de force.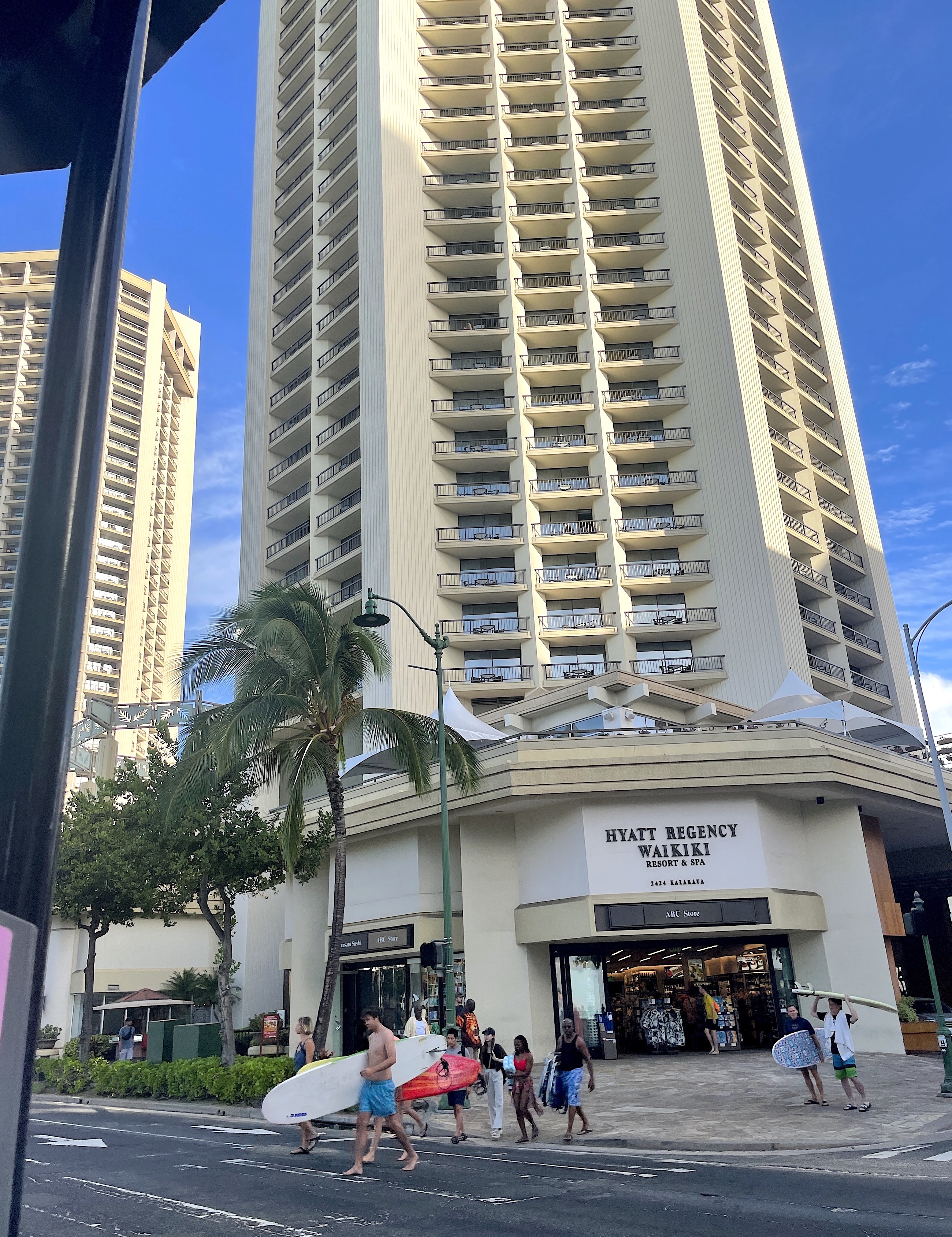 Photo by Michael Reiss
Lodging options are plentiful so why not stay at one of the preferred festival hotels, the Hyatt Regency Waikiki Beach Resort and Spa.  Boasting a prime location just steps from the main beach of Waikiki, this resort has something for every visitor. Whether a family vacation, a wedding celebration, a girl's getaway, or a romantic rendezvous, they've got you covered. Their professional staff is warm and ready to accommodate your every request.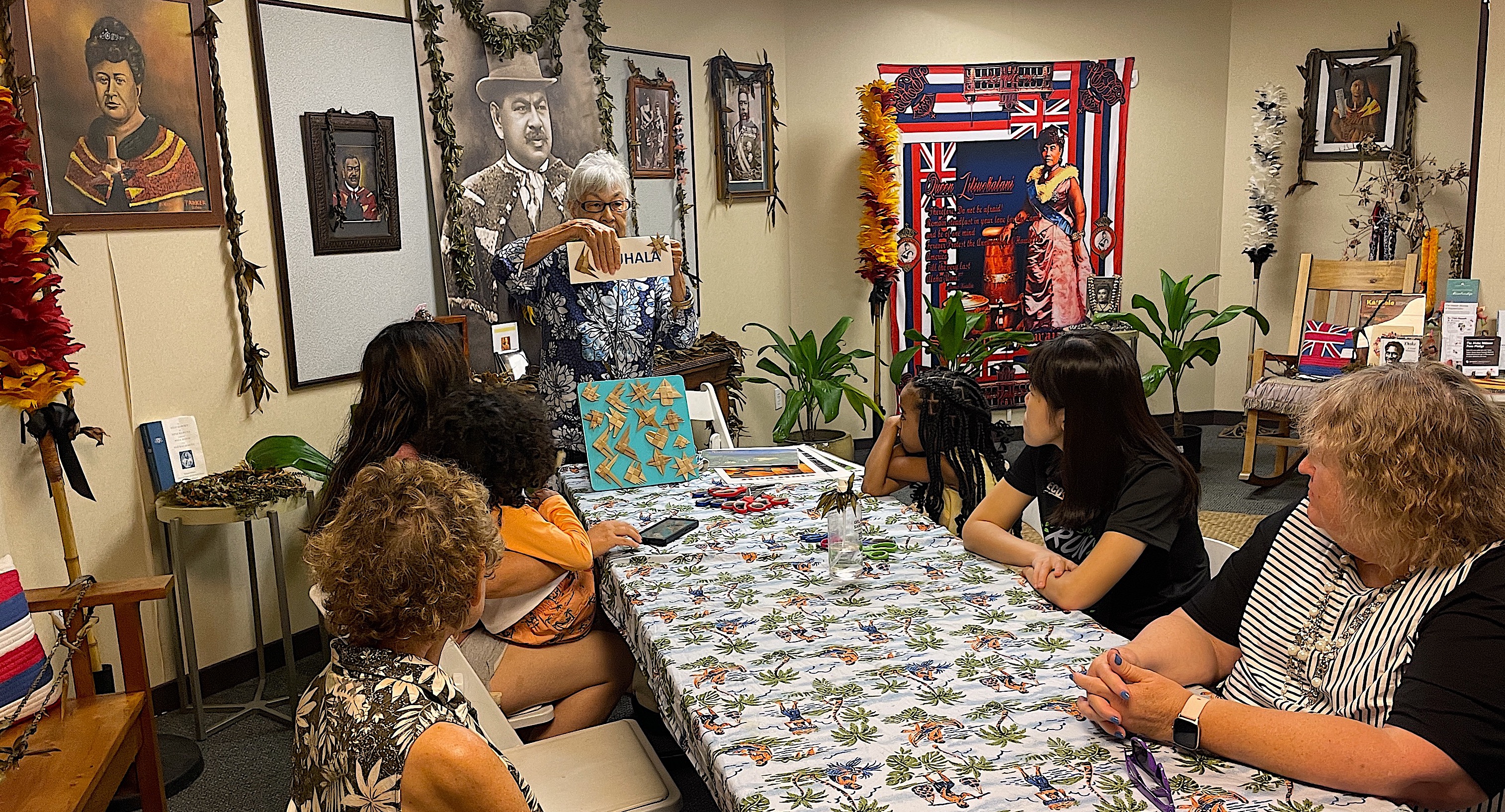 Photo by Michael Reiss
The spirit of Hawaii is alive and well with the many offerings of the resident kumus eager to share their culture and traditions. Try lei making or ukulele playing to get you in the groove. Stay fit in their gym and rooftop pool, cross the street to paddle, surf, snorkel, and work on your tan.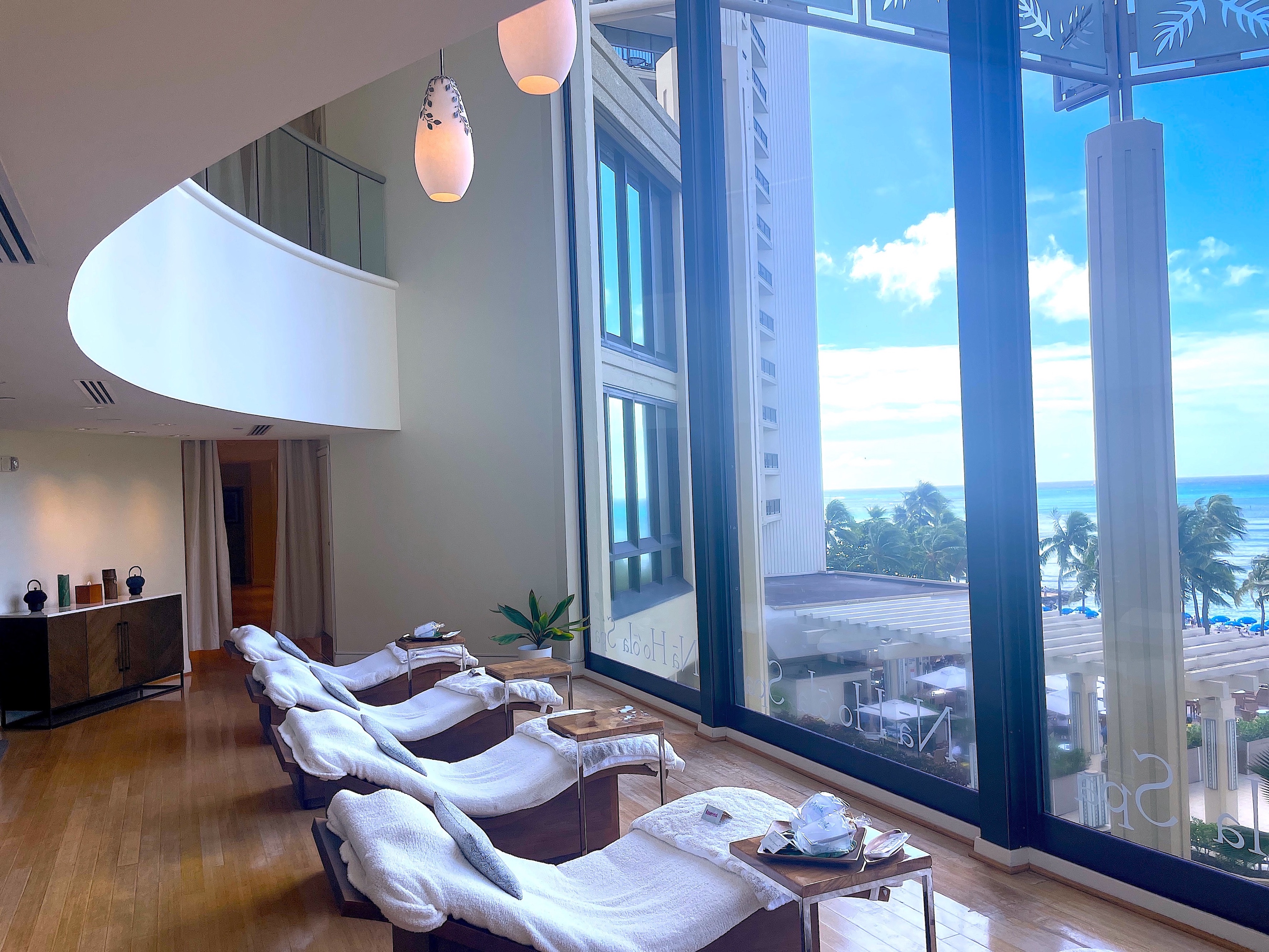 Photo by Michael Reiss
Pamper yourself in the world class spa and indulge yourself by upgrading to Regency Club for exclusive food and beverage offerings throughout the day. 
Among the highlights of our stay were the gracious staff, service and food quality of the Regency Club, the first class, rejuvenating experience of a massage at the Na Ho'ola Spa, the robust program of cultural enrichment offered to guests and the community at large by the passionate and knowledgeable staff of Ho'okela Hawaiian Culture Center.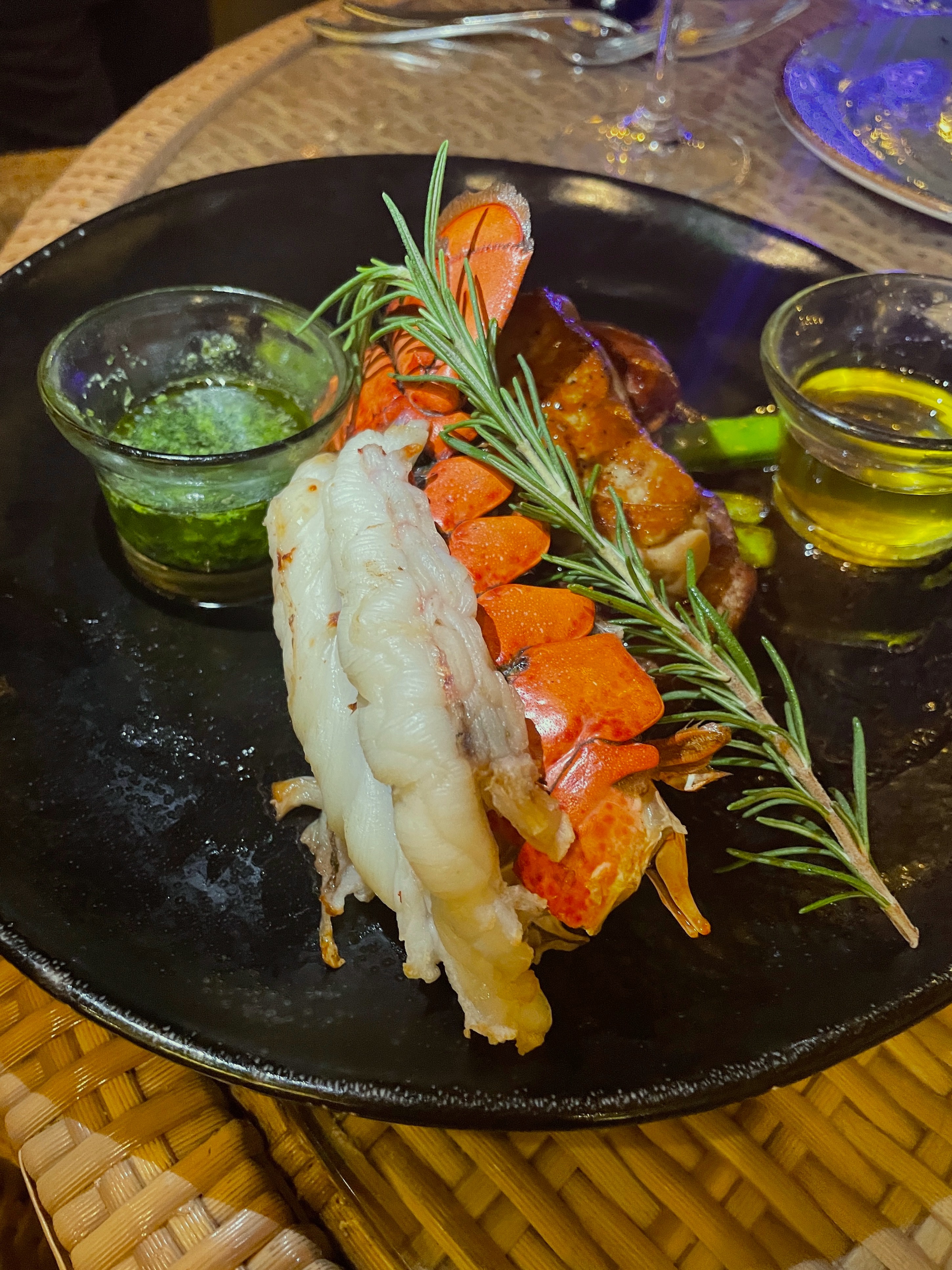 Photo by Michael Reiss
Be sure to include the delightful dining at SHOR where the dinner and live music provided a quintessential Waikiki evening under the stars at the Hyatt Regency Waikiki Beach Resort and Spa. We particularly enjoyed the Reef and Beef entrée that included Kona Cold Water Lobster Tail, Foie Gras and Asparagus. Treat yourself to a gourmet meal at SHOR or savor some casual fare in their numerous food and beverage outlets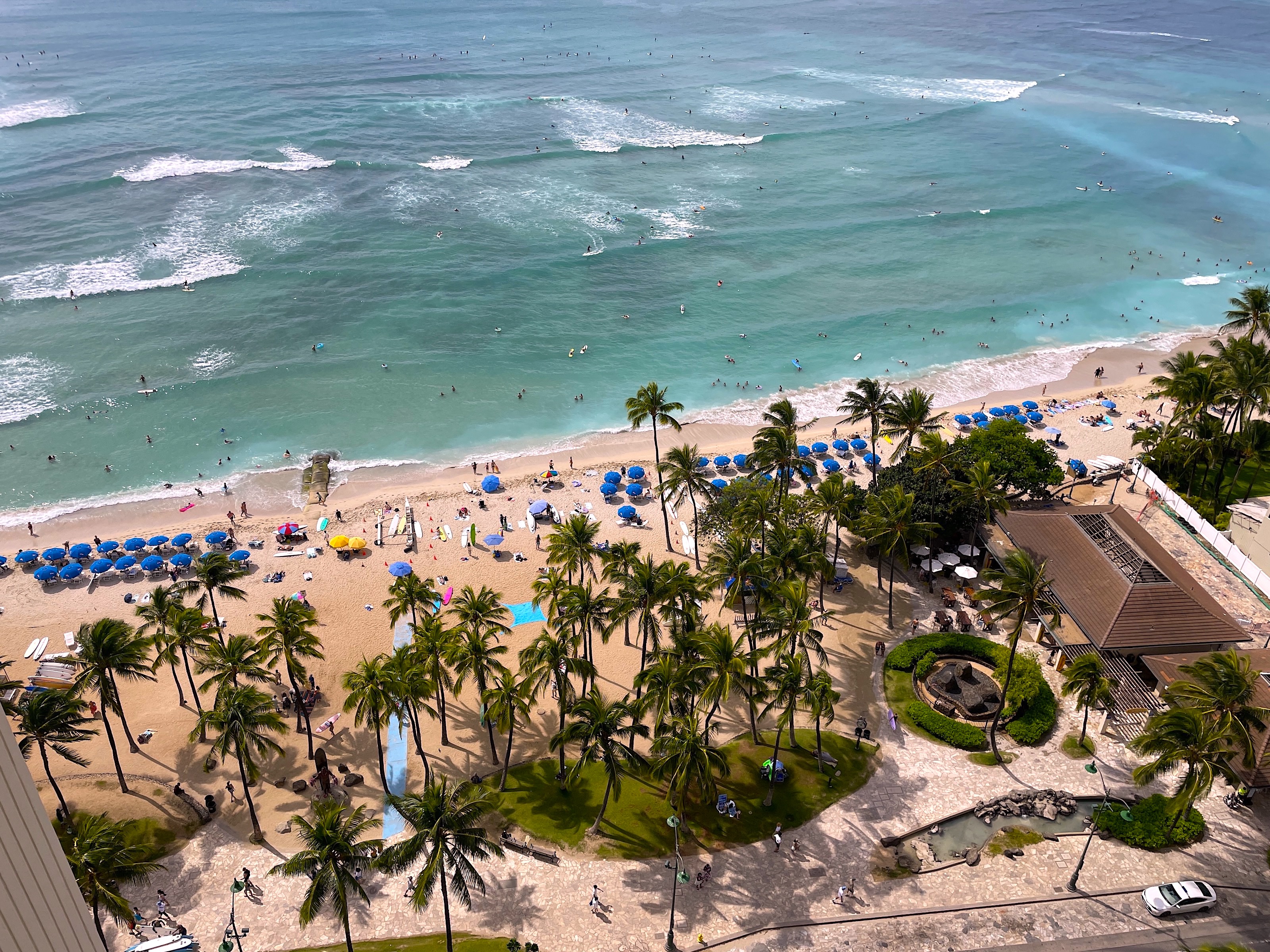 Photo by Michael Reiss
The Hyatt Regency Waikiki Resort and Spa has it all conveniently located and ready for you to enjoy right on the property without wasting a moment of your precious vacation time. The Hyatt looks out at iconic Waikiki Beach with the sights and sound of the waves wishing you a warm aloha bon voyage.
Plan now for a spectacular culinary holiday that will include the Hawaii Food and Wine Festival and so much more. 



[ad_2]

Source link