[ad_1]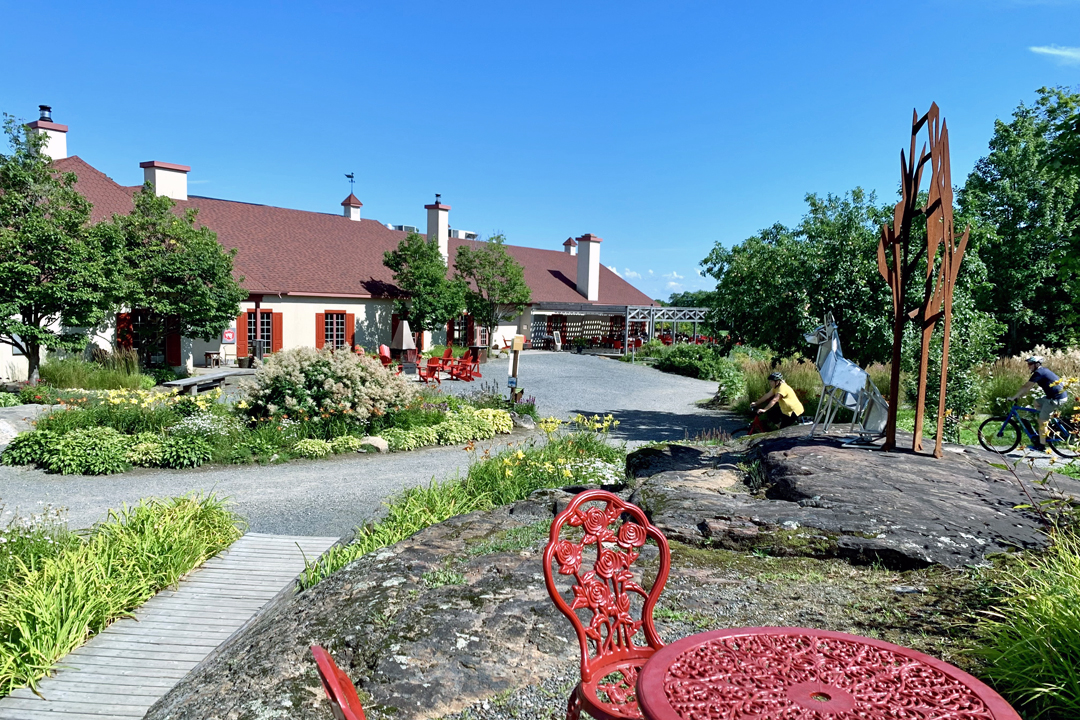 Linda Fasteson
Road trippers traveling between Montreal and Quebec City tend to zip along Highway 20,  the fastest route between them. Some add another half hour or so to take the more scenic Highway 40 along the St. Lawrence River's north shore. Others might know about the King's Road, Chemin du Roy, the historic route along the north shore built when the region was part of New France. There are charming little villages, panoramic viewpoints and heritage sites along the way. There is, however, much more.
These roads pass through the Mauricie and Lanaudiere regions of Quebec, together known as Authentic Quebec. This is the heart and soul of the province and might surprise yu with ther many reasons to slow down and explore.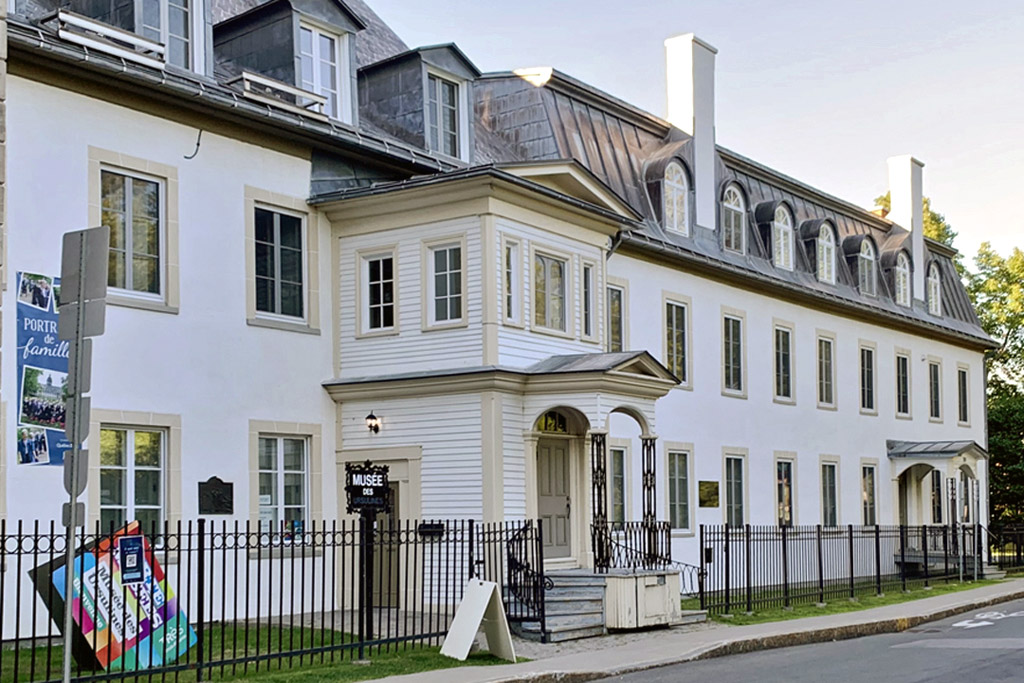 Linda Fasteson – Uersuline Museum, Trois-Rivières
The vast forests once the land of First Nations, pioneers and lumberjacks, now provide visitors with a relaxing getaway to nature. Luxurious resorts offer health tourism and regional gastronomy.
The urban experience: Maurice's Trois-Rivières
The major city, Trois-Rivieres, is the economic and cultural center and is one of the oldest settlements in Canada. With vast forests to the north and the powerful Saint-Maurice River to transport logs here, this is where Canada's industrialization began.
Trois-Rivieres was home to the world's largest paper mill and was the 20th century Pulp and Paper Capital of the World. Hydroelectric power plants along the Saint-Maurice River lured more industry to the area, as well.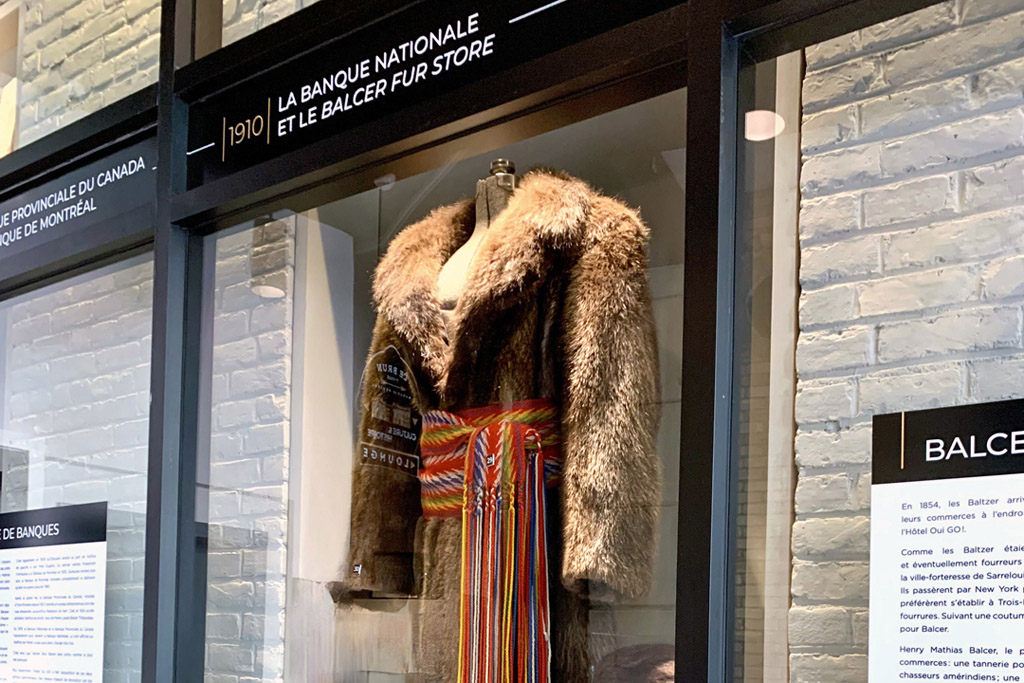 Linda Fasteson – Artifacts foyer of the Hotel Oui Go!
To bring the area's past to life, take a private tour in Trois-Rivières with a company like Personare. Stroll the promenade along the St. Lawrence River and hear the stories of the improved relationships with the Five Nations after Great Peace of 1701 and of how the city rebuilt after the devastating fire in 1908. Learn about the link to Benedict Arnold and what the local people did in the 1776 Battle of Trois-Rivières, when the Americans tried to make Quebec their 14th colony.
Monuments are dedicated to Trois-Rivières' notables like the city's founder, Le Sieur de Laviolette, the fur traders who formed the Hudson Bay Company and the explorer who lived among the indigenous people and became a translator.  The Trois-Rivières woman who founded the Sisters of Charity (The Grey Nuns) of Montreal was sainted for her work founding schools, hospitals and orphanages throughout Canada.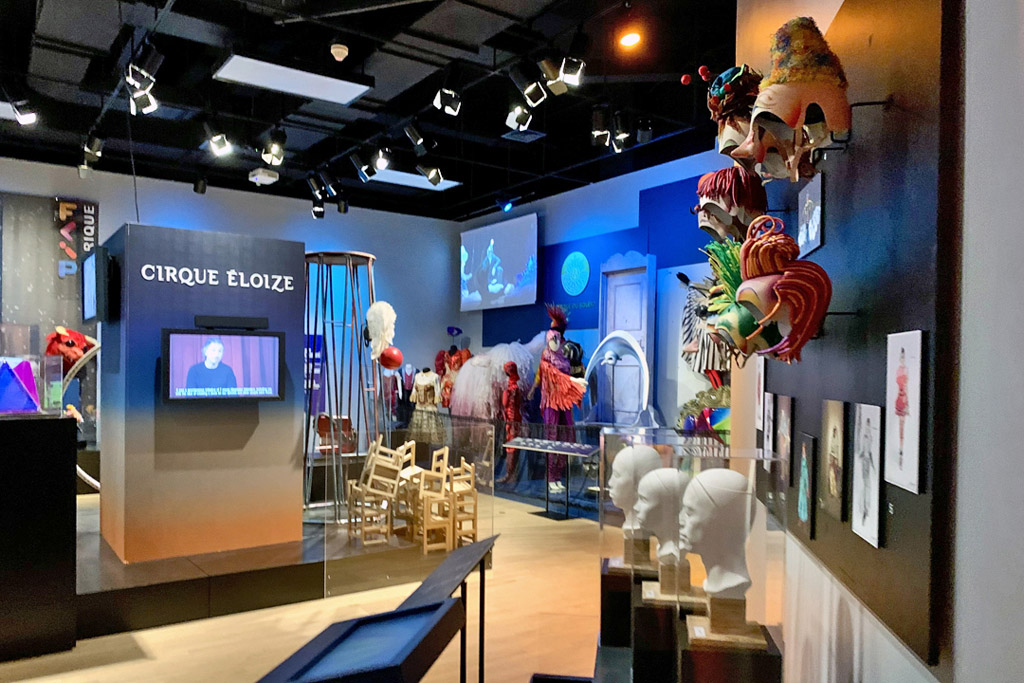 Linda Fasteson – Musée POP, Trois-Rivières
Climb the monumental staircase where a milestone is marked on every step and enjoy the view from where Laviolette erected his fort. Walk to the Rue des Ursulines, the oldest street in the city. It is where the cloistered Ursuline nuns established the first school for young girls and the first hospital and lived until 2019, when the city bought the property.
Tours of the Ursuline Museum include the elegant domed chapel and the cloister. Across the street. St. James, the oldest church in Quebec, was built by the Catholic Récollets, the first missionaries to New France. It is being renovated to serve as a cultural center. The fanciful silver figures playing hide and seek in the facade's niches are there as a result of the province's allocation of 1% of its budget for art.
Many elegant private homes line this street and lead to Place d'Armes, named for the military exercises conducted here. It was granted to Algonquin chief Charles Pachirini in 1648 and used as a First Nations camp, for fur trading, by the Jesuits and as a public market.
Trois-Rivières is also a hub of creativity, with art galleries, artists studios, and over 400 poetry plaques at points of interest. The annual International Poetry Festival is one of the world's largest and has turned Trois-Rivières into the Poetry Capital of Quebec.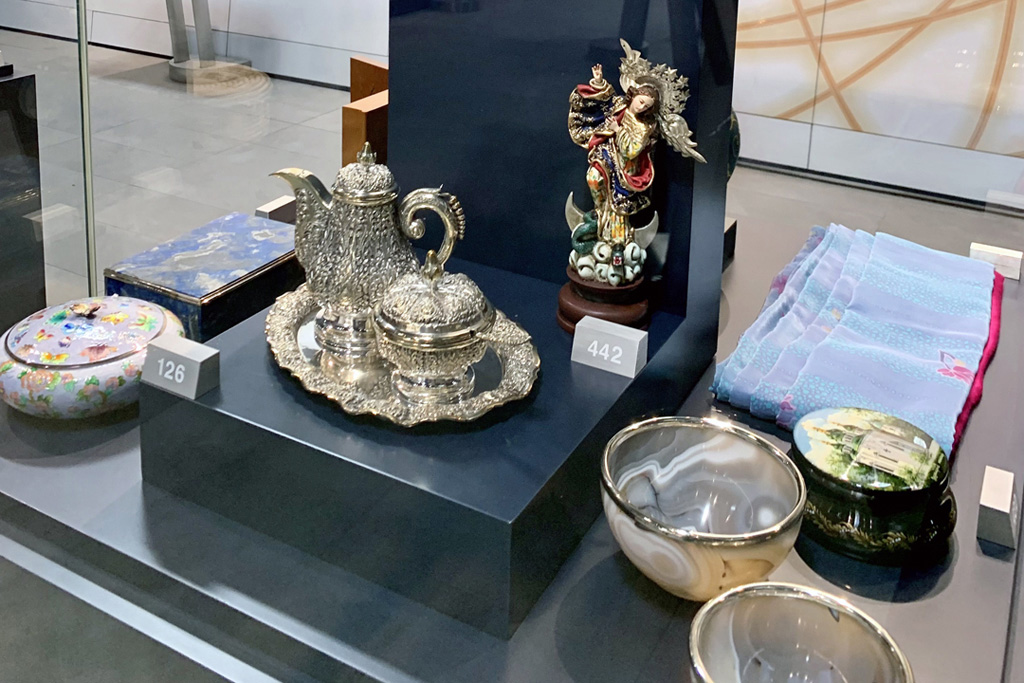 Linda Fasteson
Accommodations
For a European ambience and urban chic within walking distance of these points of interest, reserve a deluxe suite that overlooks downtown's shops and restaurants at Trois Rivières boutique-style Hotel Qui Gol. It's in the Balcer building, built in the elegant Neo-Renaissance style after the city's fire in 1908.
Artifacts from when the building served as the Balcur Fur Store and later the Bank of Montreal are displayed in glass cases in the foyer. Breakfast is a delight. Waffles as the speciality at its breakfast restaurant aptly named Le Gaufré. The freshly baked croissants amandine set the standard for the rest.
A short drive away: museums and more
Trois-Rivieres' Borealis Museum is named for the boreal forest that covers a third of the province. It is in the former filtration plant of the Canadian International Paper Company (CIP), which supplied the New York Times from 1920 to 2000. It was once the most important paper factory in the world. Today its waterfront cafe overlooks yachts bobbing in waters that used to be filled with logs for processing.
The adjacent Cogeco Amphitheater offers national and international music performances. Cirque du Soleil performs there in summer.
Musée POP has dynamic exhibitions on popular culture from circus arts and local artists and artisans to life behind bars, a reference to the adjacent Old Prison of Trois-Rivières, the grim former detention center with a dungeon.
Canada's first ironworks industry, Forges-du-Saint-Maurice National Historic Site, was built in 1730. It produced implements needed for the fur trade, logging, agriculture and defense.
About 30 minutes away, in Shawinigan, The Prime Minister Jean Chrétien Museum: Canada in the World displays every official gift he received from around the world. It is in LaCité de l'énergie, where the landmark 377′ high Hydro-Québec observation tower is the second highest in Quebec.
Take the elevator to the top of the tower for a breathtaking panoramic view enhanced by descriptive panels. Back at ground level the science experience begins with an immersive theme-park-style multimedia energv show, complete with special effects.
Exit to attention-grabbing interactive exhibits on the future of energy and industries. Hydroelectric plants, however, continue to provide renewable energy. 94% of Quebec's and 60% of Canada's electricity is from hydro sources. Their excess is sold to the USA. A special shows may be running.
Lanaudiere and the Great Outdoors: ecotherapy and ecotourism
The Mauricie and Lanaudière region covers over 20,000 square miles, making it larger than Costa Rica. This gateway to the outdoor recreation has two national parks, fifteen regional parks, a biosphere reserve, three wildlife preserves and about 30,000 lakes, streams and rivers.
From spring and summer's green expanses and sparkling lakes to the blazing colors of foliage season and white blankets of snow in winter, it is the place to enjoy the great outdoors year-round. Experience the accommodations make it a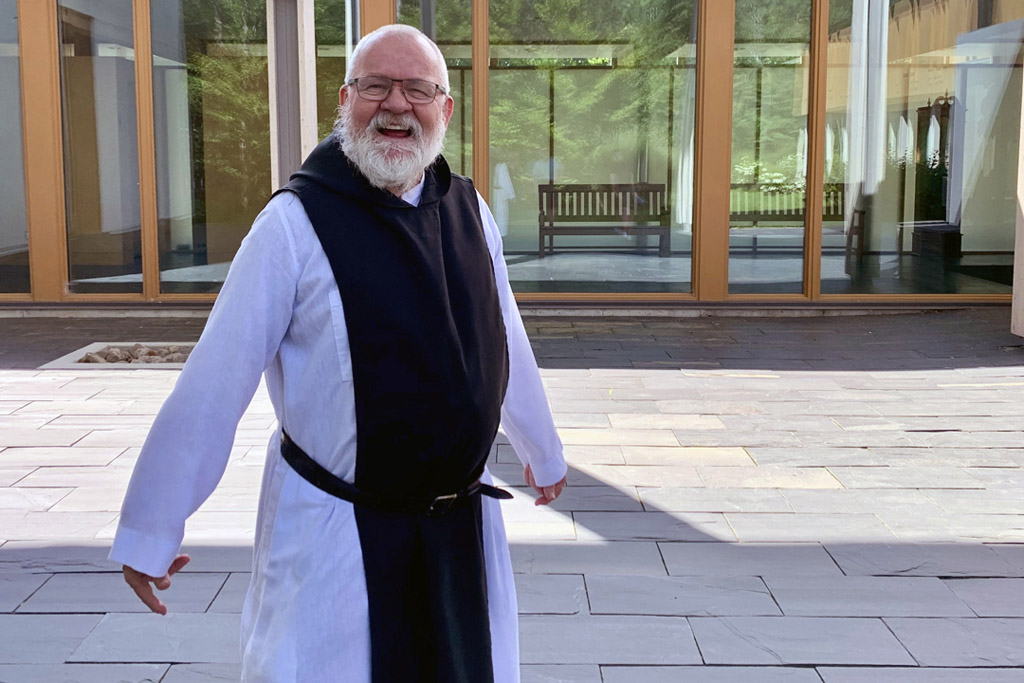 Linda Fasteson – Fr Sylvain Jacques, Abbaye Val Notre Dame
Abbaye Val Notre Dame: a taste of the forest
The luxury of tranquility is found at Abbaye Val Notre Dame in Saint-Jean-de-Matha. The abbey is home to 24 Cistercian monks who rise daily at 4 a.m. to attend church.The grounds are a place for introspection, mindfulness and meditation, and communing with nature.
Thirteen guest rooms are available,  Meals are included and and eaten in silence. Reservations shoujld be made well in advance. 
Taste what you discover in the forest during a Forest Workshop. Discover what guide Francois Patenaude, an expert in edible regional forest products,  calls "forestibles", or forest comestibles. 
Forest products like fir syrup and the Abbey's Herbal Tea, made from red clover, goldenrod, and raspberry leaves picked on Abbey grounds, are sold at the shop, which is open every day. Staff can assist with proper use and preparation. Delectable local products including cheeses, jams and honeys are sold here along with toffees, chocolates, and cakes made in the Abbey's workshops.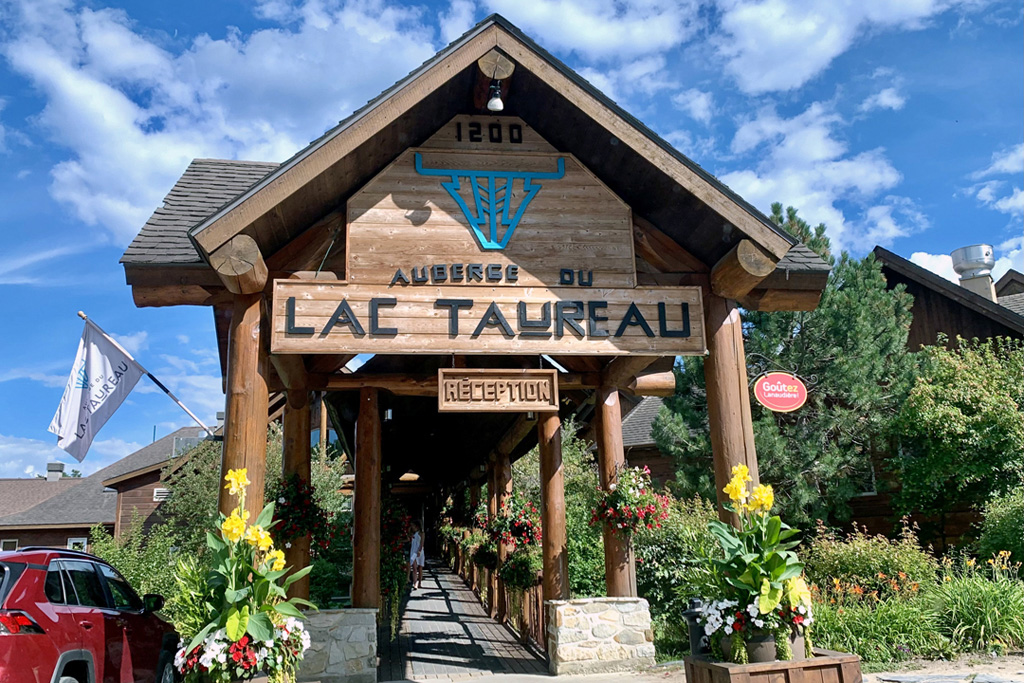 Linda Fasteson
Auberge du LacTaureau: 4-stars on the lake
Auberge du Lac Taureau is a four-star family-friendly property on the wooded shore of Lake Taureau. Swimming, water sports, hiking trails and rides in quads or on horseback are offered. Spa services are also available.
Couples walk hand-in-hand along the boardwalk at sunset. It's likely there will be a musician nearby serenading a group with American tunes.
The bountiful breakfast buffet includes fruits, juices, parfaits, yogurts, eggs, ham, bacon, made-to-order omelets, and cereals. The dinner buffet feature fried chicken, toro almandine, lamb chops—(don't miss these)— lobster Mac and cheese and pogo, the popular corn dogs. With whipped potatoes rosettes, ratatouille, a salad bar, sliced meats and cheeses and a dessert bar with caramel sauce, and candies for children there is something for everyone. In good weather, ask for a table on the screened porch and enjoy the water view.
Not all buildings have elevators. If stairs are an issue, ask for a first-floor room or one in La Verge d'Or.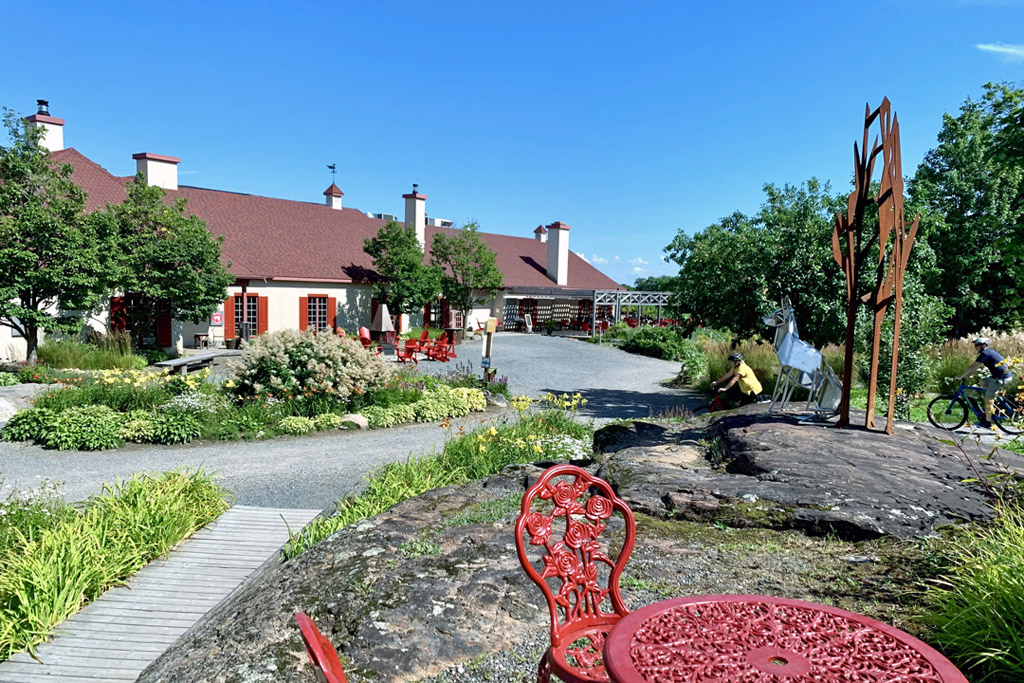 Linda Fasteson
Le Baluchon Eco Resort: the essence of the land
A drive past the property's farm and vineyard leads to the 4-star Le Baluchon Eco Resort, With over 6000 acres of green space and a full range of services and activities, there is plenty of room to roam and ways to leave the distractions of everyday life behind.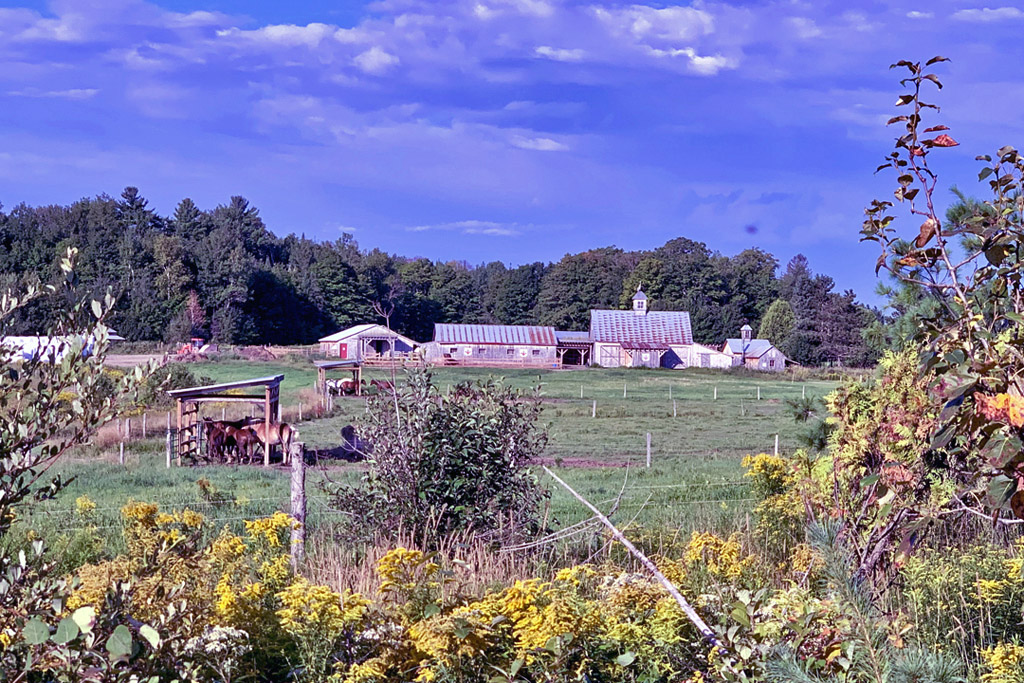 Linda Fasteson
Your time is your own. Be as active as you please. Go mountain biking. Try the equestrian activities. Take a private carriage ride. There's archery, tennis, volleyball, horseshoes, canoeing and kayaking.
Or simply relax with the Nordic baths, health spa, pool and yoga retreats and gardens. Have a massage on the water or under the trees. Try outdoor yoga on the banks of Rivière du Loup. Hike to the windmill that Canadians may recognize from the Marguerite Volant television series filmed here.
Winter brings skating, snowshoe hiking, cross-country skiing, dog-sledding, and snow tubing. Or simply sit back and enjoy this pastoral setting.
There are two chalets and over 89 rooms in the four auberges (lodges). You may want to choose by proximity to your preference for outdoor activities, the soothing sounds of water, the health spa or the dining room building with its outdoor pool. Each guest room is unique, a blend of modern and rustic style that reflects the local area and history. Most decorative elements were created by local artisans. 
As you settle in, the exceptional nature of how this property relates to its environment, history, and heritage emerges.There's a tradition of authenticity and a decor that incorporates regional artifacts and antiques. Outdoor and cultural activities promote region's artists and craftsmen.
The design elements often refer to the site's former use in providing lumber for a sawmill and are created through holistic principles of "slow design," responsible utilization of materials through the use of renewable products and non-polluting production techniques. It's about sustainability and minimizing the ecological footprint and creates a sense of calm and connection with the land. 
Biodegradable products are used and recyclables are collected. Marsh reeds provide filtration for the sewage system. Plastic bags from guests or employees are given to a local artisan who weaves them into reusable bags sold at the café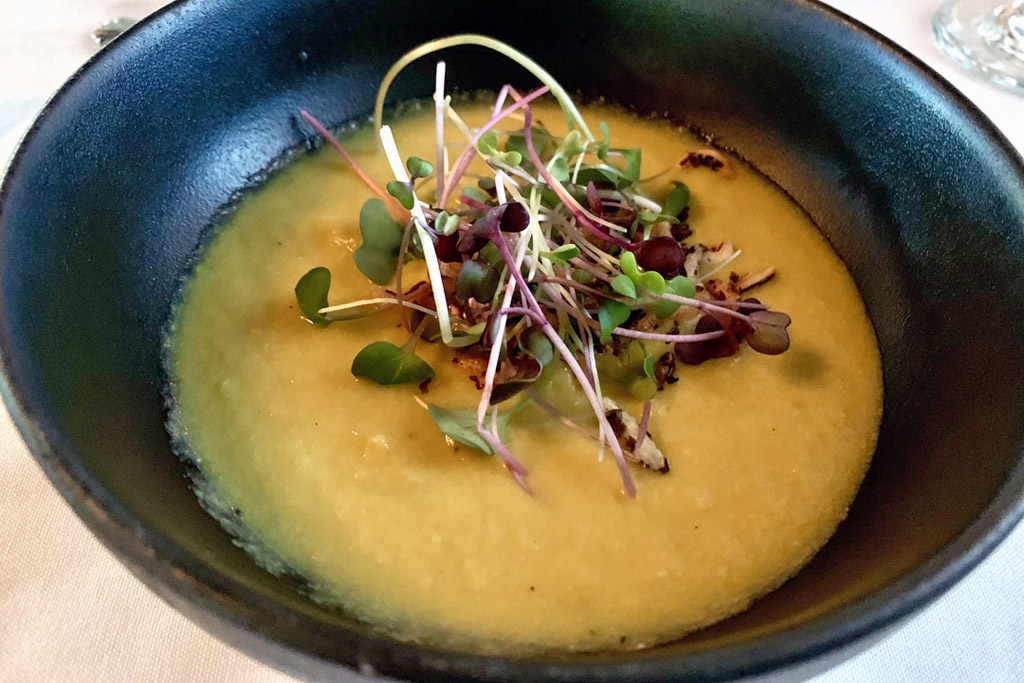 Linda Fasteson
Accolades too numerous to list include gold medals and prestigious Excellence touristique (Tourism excellence) awards in the Grands Prix du tourisme québécois competition; awards for top chefs, and awards for sustainable development, including recognition by RECYC-QUÉBEC and 4 Green Keys for protecting the environment and respecting practices that improve energy consumption. Le Baluchon Eco Resort is a member of Tourisme durable Québec for sustainable tourism
The breakfast buffet and lunch is served at the Au bout du monde (at the end of the world) Éco-café. Here and at dinner in the dining room natural, organic local foods, meats from Le Baluchon's own farm and ingredients grown onsite. Products like spruce, fir and mushrooms come from their boreal forest. Sauces, garnishes, and spice mixes are prepared here.
The dining room menu is refined, utilizing regional products in a fusion of authentic historic regional flavors and eco-gastronomy. Traditional culinary techniques like wood smoking are incorporated for enhanced flavor.
Order à la carte or choose from the 3- and 4- course table d'hote gourmet menu. Leave room for dessert, perhaps the Rhubarb and St-Crème fraicheur, a rhubarb declension, roasted carmelina tuile and St-Crème flavored accompaniments or Discovering local cheeses, with hasp gel with spruce, sweet and sour nuts and a multigrain biscuit with La Piqûre honey. Complete the meal with conventional spirits and liqueurs, a linear tastings or coffee flambée prepared at your table.
It is also easy to assemble a gourmet picnic from the well-stocked boutique by the café. Indulge in cheeses, fruits and vegetables, smoked meats, beer and wines, honey, jam, chocolates and other delicacies characteristic of the region. Discover a full range edible specialties, the best kind of souvenirs of your experience. 
Authentic Quebec
Authentic Quebec is a place to slow down and relax. Return refreshed, with a better understanding of how Canada came to be what it is today.You will bring back many reasons to return.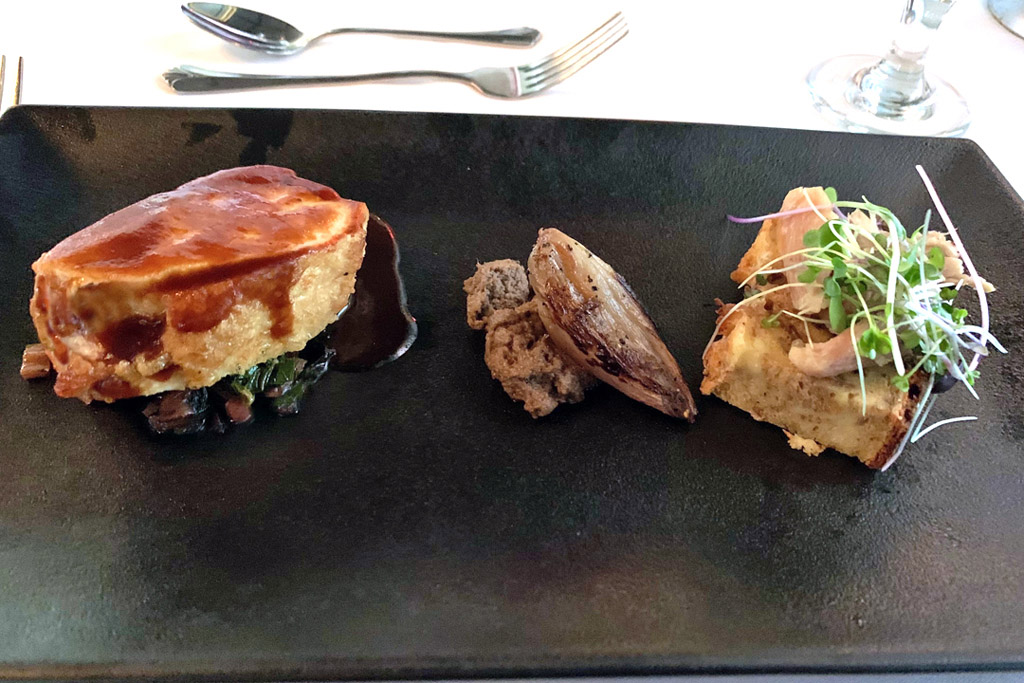 Linda Fasteson
Chicken dinner, Le Baluchon Eco Resort, Saint-Paulin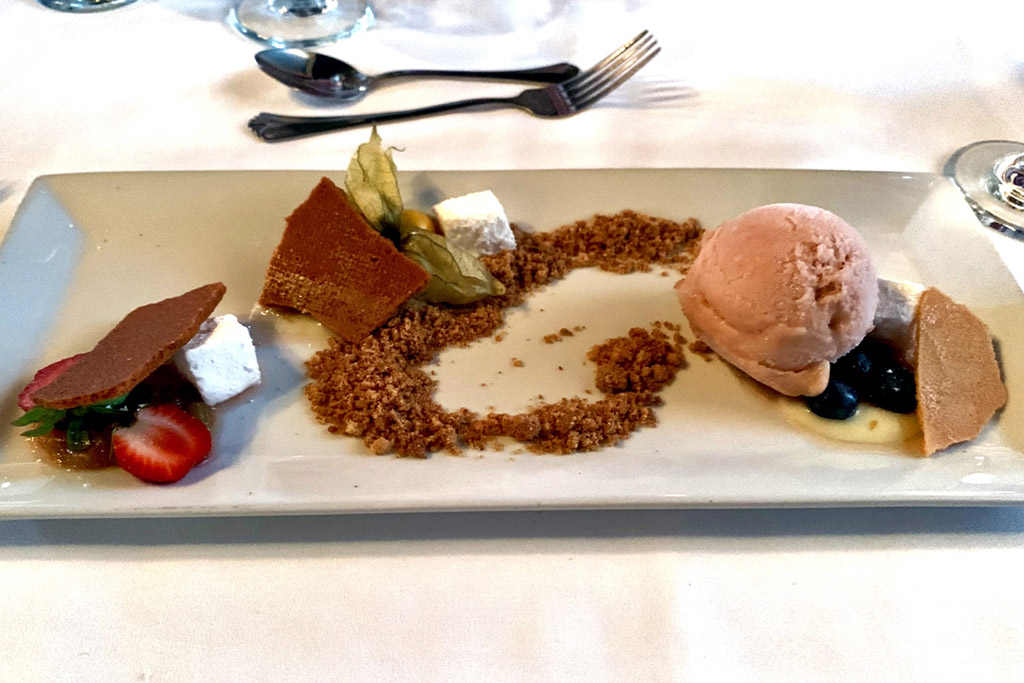 Linda Fasteson
Dessert, Le Baluchon Eco Resort, Saint-Paulin



[ad_2]

Source link