[ad_1]

(credit: Rick Lew)
TETRA Hotel, an Autograph Collection Hotel, opened in March 2022 marking the newest hotel in Silicon Valley,bringing luxury accommodations and dining to the area. Just minutes from the San Jose International Airport, TETRA connects the four elements of life in the Valley – work, life, technology and nature – in its design-conscious lifestyle hotel. TETRA, which in Greek translates to four, was the inspiration for the project to be the axis of work, life, tech and nature in the area.
Located in Sunnyvale, CA, the hotel offers 186 guest rooms and suites and features multiple dining and drinking outlets, including the signature restaurant, Adrestia, Japanese whisky bar Nokori and Coffee Manufactory. It is a respite in Silicon Valley which intertwines all four elements to create an atmosphere and environment allowing guests to enjoy a new-understated luxury hotel. Presenting a high-touch; elevated and understated design, renowned designer Gabellini Sheppard used natural materials and modern finishes along with intentional touches of technology and organic elements to create an encapsulating environment.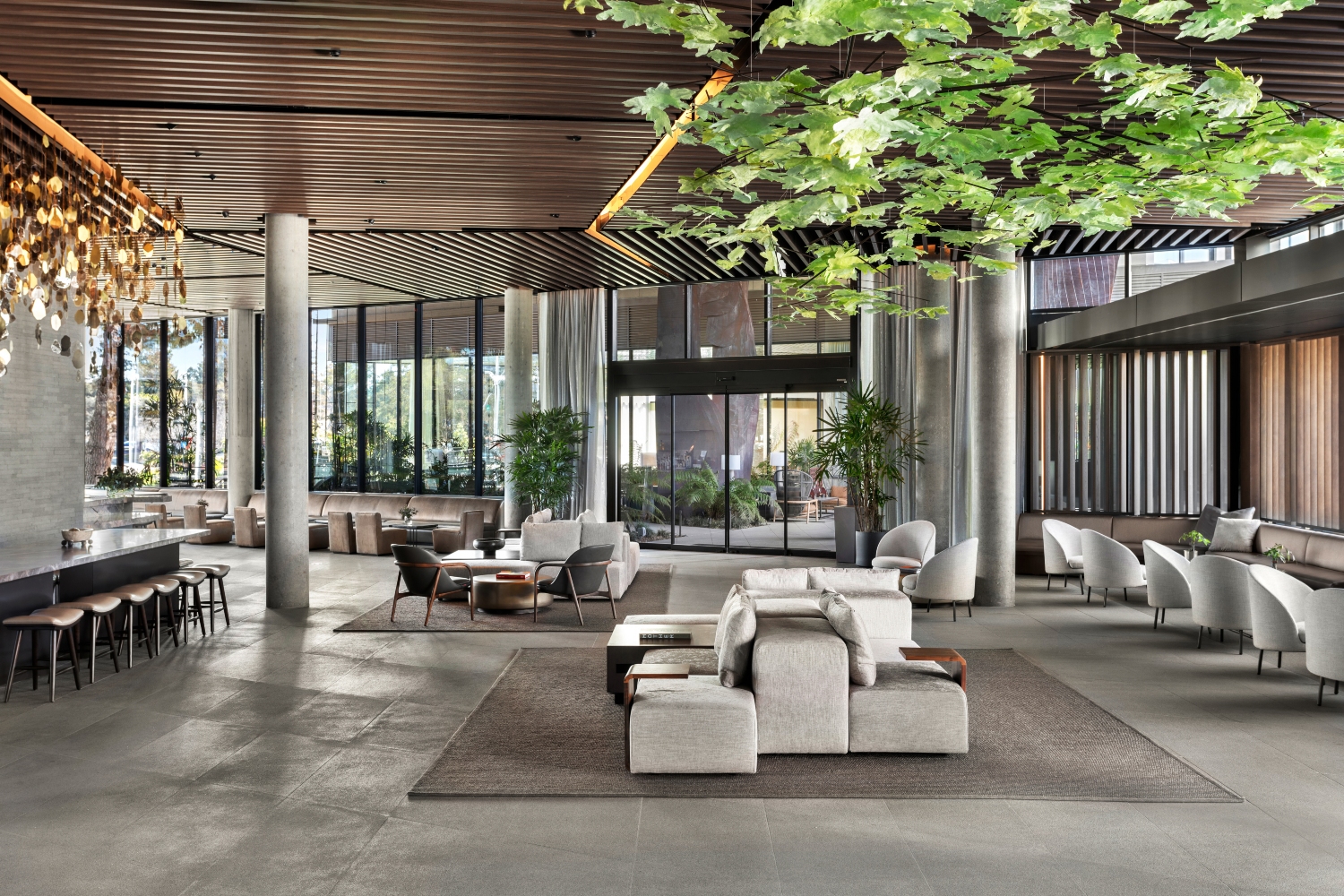 (credit: Rick Lew)
"Just minutes from the heart of Silicon Valley—a place to disconnect from routines and reconnect with what matters," said general manager Mike Lerman.
Accommodations range from 220 sq. ft. to its largest Hospitality Suite measuring at 890 sq. ft. including sweeping views of the valley that are unparalleled from any other location. Along with luxury bathroom amenities from MiN NY, Dyson Supersonic hair dryers, Bellino Fine Linen jersey knit hooded robes and custom jersey knit slippers in each room, each of the 14 suites include Theragun Massage Guns. The property also has an outdoor, heated pool surrounded by olive trees and the state-of-the-art, fully equipped fitness center featuring Peloton bikes and an outdoor shared space with its sister property AC Hotel Sunnyvale Moffett Park.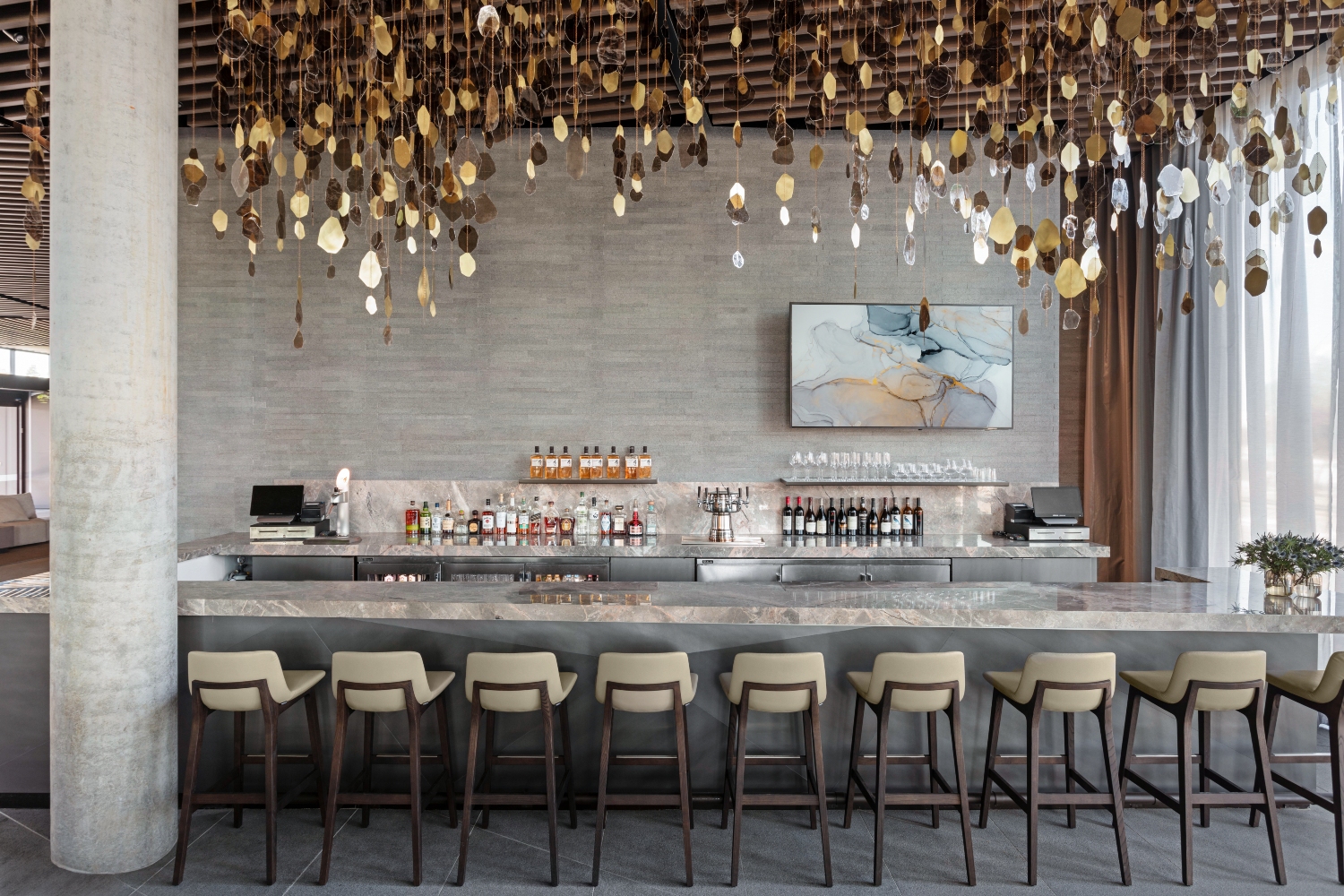 (credit: Rick Lew)
In terms of their dining and drinking options, at Adrestia, Executive Chef Hideki Myo, presents an eclectic California menu with Asian influences and a variety ofJapaneseingredientsandflavors. At Nokori, the hotel's Japanese whisky bar, they have one of the largest collections of Japanese Whisky in Silicon Valley and serve up bar snacks including Pork Belly Kakuni Bao Buns and Crispy Sesame Shrimp. Along with its vast selection of premium whiskies, Japanese beers and sake, it has an innovative Suntory highball machine that dispenses a perfectly ratioed, highly chilled and carbonated, highball. Coffee Manufactory, the hotel's cafe and retail experience, features its own premium coffee along with to-go bites from pastries to grab-and-go salads and Japanese sandos from Chef Myo.
The hotel is also proud to be deeply connected to its surrounding community offering a Discovery Series for guests and locals. From wine tasting and a lending library to artist talks and more, the hotel partners with Content Magazine to bring fireside chats, podcast recordings and more with leading South Bay voices. It also offers Yoga & Whisky Wednesdays, which highlights a food/beverage component while also emphasizing mindfulness and movement.
Experience a restful retreat in Silicon Valley as this Sunnyvale hotel is designed with your overall well-being in mind.



[ad_2]

Source link