[ad_1]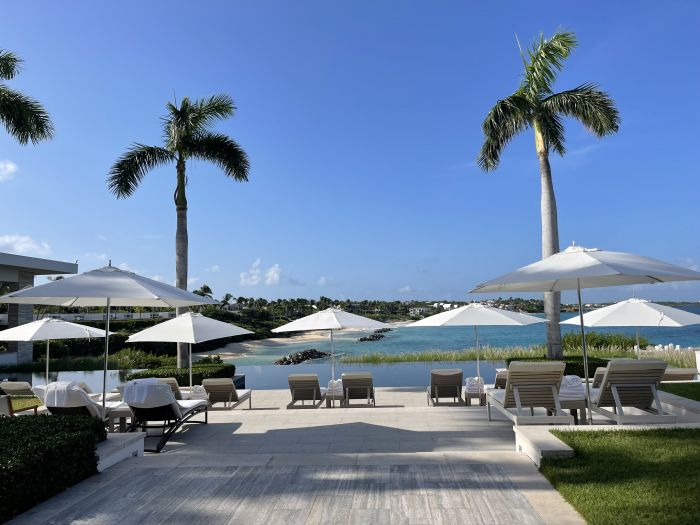 Whitney Spielfogel
Winter is fast approaching in the Northern Hemisphere and soon enough, millions of Americans will be flocking to airports in hopes of catching a flight to somewhere warm. Look no further than the Caribbean, especially now that most travel restrictions have been lifted from this region of the World. As of November 1st, 2022, there are no pre-arrival testing or entry requirements for guests traveling to Anguilla from the United States, making this the perfect getaway if you're looking for an exclusive tropical escape. 
Only sixteen miles long and three miles wide, Anguilla is but a drop in the Caribbean Ocean, but don't let this tiny island fool you! Anguilla is known for being one of the most tranquil locales around. Many celebrities visit the island to "disappear", disconnecting and leaving the world behind. This laid-back little island – a British Overseas Territory in the shining Caribbean – lays claim to some of the best beaches in the entire world!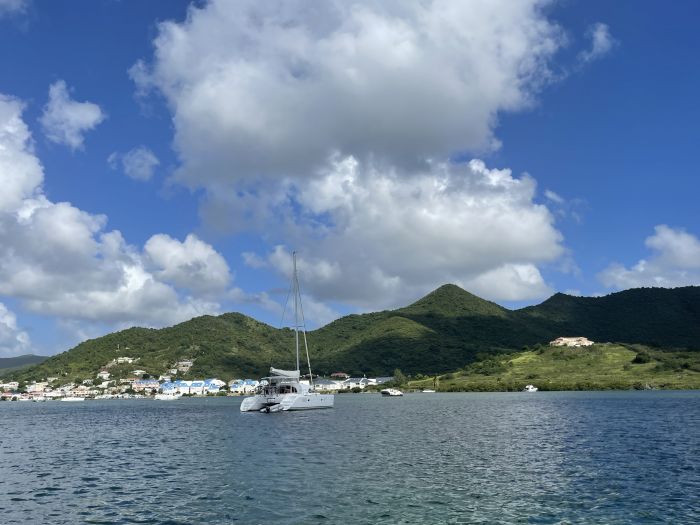 Whitney Spielfogel
While getting to Anguilla may seem a bit complicated at first, it's very much part of the adventure of enjoying a remote luxury vacation. While some guests chose to fly into the Anguilla Clayton J. Lloyd International Airport (AXA) on smaller jets or chartered planes, most visitors to the island fly into the Princess Juliana Airport in St. Maarten (SXM) and take a motorboat to Anguilla (testing/entry requirements have also been dropped for St. Maarten). The short 20–30-minute ride to Anguilla can be on a shared or private sea shuttle, which is easily arranged through the five-star Four Seasons Anguilla concierge, the premier five-star property in the region.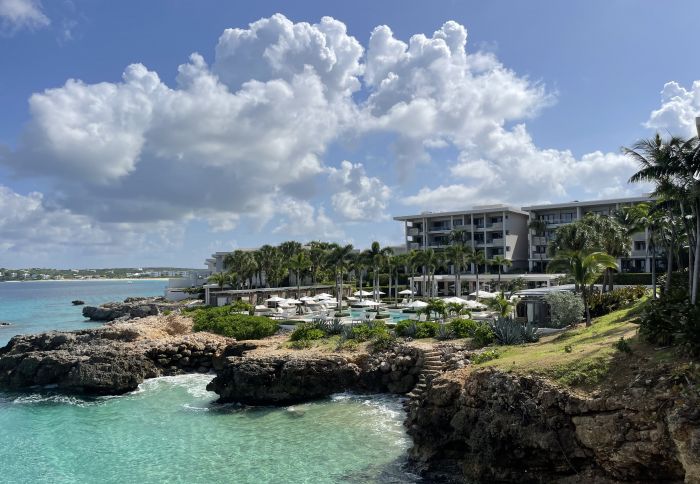 Whitney Spielfogel
The perfect indulgent island retreat awaits you at the Four Seasons Anguilla. Tucked away on an illustrious bay, the whitewashed retreat is as relaxing as it is stylish. The Four Seasons Anguilla has an unmistakable sense of place where guests can rejoice in complete privacy yet enjoy unlimited access to the resort's plethora of pleasures. The contemporary, open-air design throughout the property offers lavish spaces featuring endless recreational activities and opulent amenities to rest, relax, reconnect, rejuvenate, and, ultimately, celebrate.  
The first thing you'll notice upon arrival to the hotel is the stunning panoramic views afforded by the hotel's prime beachfront location, stretching from the impressive bluff it sits on to the pearly white sugar sands below. You'll find yourself surrounded by immaculate grounds as you gaze out to the surrounding turquoise waters of the sea below. Boasting a mile-long stretch of super soft beach, and beautiful rooms that fringe the shores with their private terraces and balconies, you'll very quickly slip into island life here.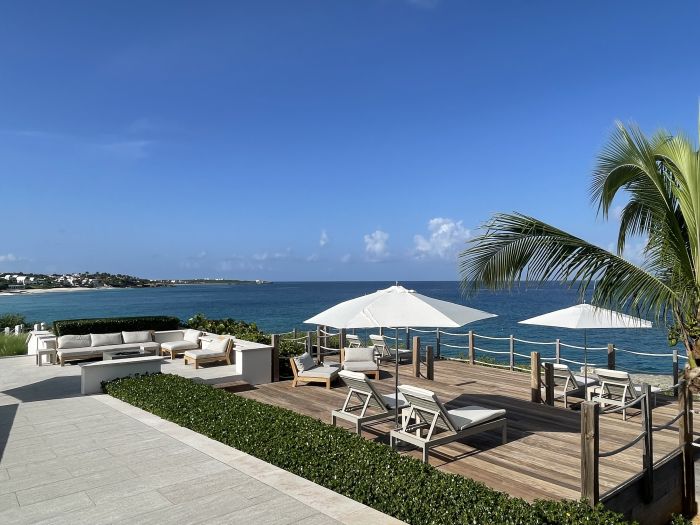 Whitney Spielfogel
The Four Seasons Anguilla is comprised of an impressive 188 comfy guest rooms, suites, residences, and villas. Featuring beautifully appointed marble bathrooms, serene outdoor spaces, personal plunge pools, private sun decks, deep soaking tubs, and four-poster King beds, you can expect nothing but the best when you're bunkered in. It's not just the Four Seasons Anguilla's breathtaking setting and impeccable rooms that have stolen our hearts, it's the resort's attentive and thoughtful staff that make your stray truly unique and one to remember. The Four Seasons Anguilla personnel are warm and welcoming, providing you with unrivaled service. Escapism at its finest.  
Dining on the day's freshest catch and/or sampling sundowners at one of the charming beach bars are just some of the exceptional culinary experiences you'll be sure to enjoy at the Four Seasons Anguilla. The hotel's signature restaurant, SALT, is perched atop a clifftop bluff, offering a modern take on Caribbean cuisine, with breathtaking views of Meads and Barnes Bay below (open for both breakfast and dinner; making a dinner reservation is recommended). Bamboo Grill is a beachfront restaurant serving both breakfast and lunch, providing vast blue water bay views with locally inspired plates (the lobster egg Benedict for breakfast is a must-have!). Half Shell is the resort's hidden treasure, nestled on the Barnes Bay beach, where guests can enjoy fresh tacos and frothy and fruity cocktails (don't leave without trying the Dean Supreme). Lastly, Sunset Lounge is an open-air pavilion featuring a variety of Asian-inspired offerings and small bites to share, often surrounded by live music and the best sunset seats in the house. With an excess of culinary choices, there's really no need to leave this utopia.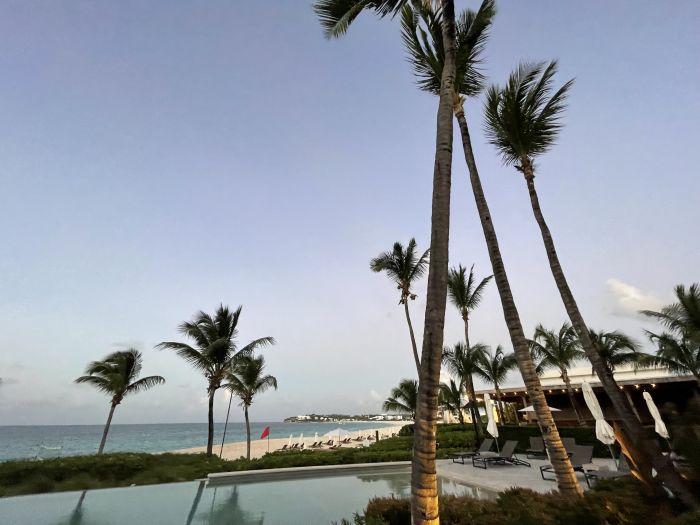 Whitney Spielfogel
The property is also home to a very impressive Kids Club and tons of on-site activities ranging from tennis and basketball to rock climbing and a wide array of water sports (paddleboarding, best-in-class snorkeling spots, kayaking, and taking out the hobby cat are just a few of the many options). Outdoor fitness classes are also available and can be pre-booked through the hotel's bespoke Conciergerie. If you prefer zen over scoring ten, the Four Seasons Anguilla's two-story spa with an outdoor infinity pool and tranquility area is a must-visit spot. The luxury waterfront spa features indoor and outdoor treatment areas, overlooking the turquoise sea below. Whichever way you choose to spend your day, one thing is guaranteed; you'll have not a care in the world.
Anguilla – in all its compact, rum-scented glory – is the ultimate island getaway. From its rich coral reefs and islets, vast blue skies, to soaking up the sun and sand, it's unparalleled beauty and luxury all around. So come, drop your bags in one of the many lavish Four Seasons Anguilla accommodations, and set sail into a sun-drenched getaway. A true breath of fresh air; the Four Seasons Anguilla is the ultimate in luxury!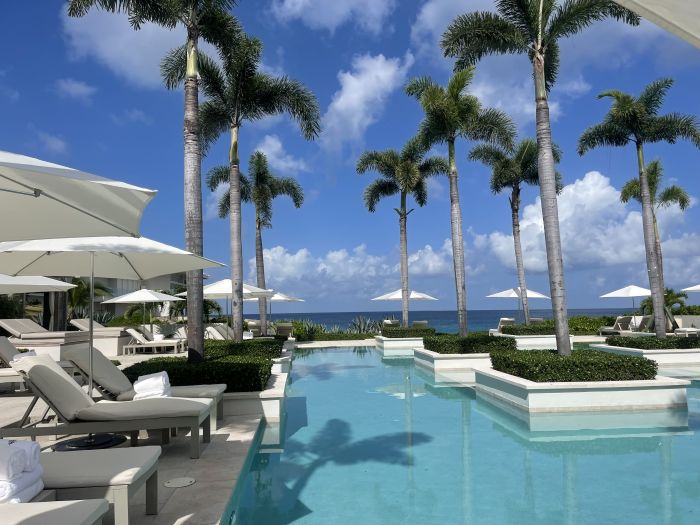 Whitney Spielfogel
This November, Four Seasons Anguilla and pioneering wellness brand THE WELL are partnering to host Recharge & Reconnect, a four-day holistic wellness retreat led by best-selling author Reshma Saujani and transformative mind coach Manjit Devgun. This curated retreat taking place at the Resort between November 17th – 20th is designed to help let go of past experiences, and create space for new energy and creativity to flourish.  Retreat guests will benefit from a dedicated program that incorporates daily movement, meditation and breathwork, along with manifesting workshops, in the most beautiful of settings, that will leave them feeling recharged and inspired to reach their full potential. 
THE WELL | RECHARGE & RECONNECT RETREAT will be priced at $1800 + nightly room rate, which start at $750 per night inclusive of breakfast, group dinner, $500 resort credit for F&B or Spa, and a private palm reading from Manjit Devgun. 



[ad_2]

Source link