[ad_1]

Lexus
Lexus is known for its brave design, imaginative technology, and exhilarating performance. This automotive company inspires drivers seeking a luxury vehicle to achieve thrilling driving experiences on the road.
Under license from Warner Bros. Consumer Products, the concept celebrates the automaker's daring redesign of its bestselling, most iconic vehicle, the all-new 2023 Lexus RX. 
Beginning its automotive journey in 1989, Lexus started with two luxury sedans and a commitment to pursue perfection. Since then, Lexus has developed a loyal following of drivers in more than 90 countries.
Now with six models incorporating Lexus Hybrid Drive, Lexus is the luxury hybrid leader. There are nine F SPORT models, two F performance models and one F model. The unique electrified powertrain boasts an astonishing 336 total system horsepower. It's the quickest RX with an impressive 0 to 60 at 5.9 seconds. The rigid chassis, advanced DIRECT all-wheel drive system, and revised Adaptive Variable Suspension deliver thrills while cruising the highway.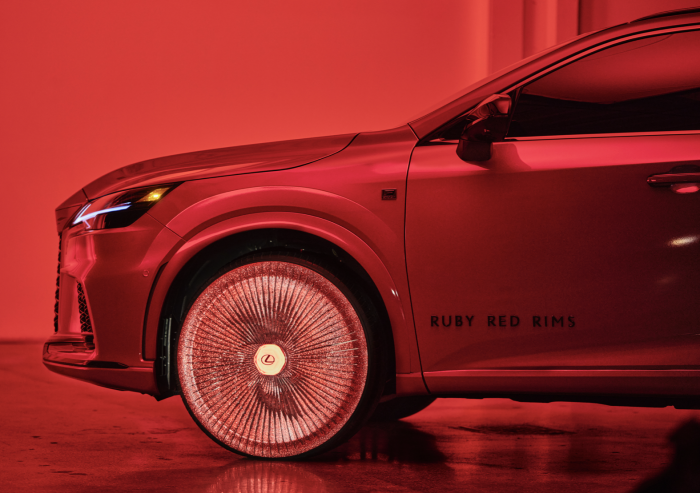 Lexus
Recently at a W Magazine star-studded 50th anniversary party in New York, the all new 2023 Lexus RX was unveiled with its Ruby Red Rims. Inspired by Dorothy's ruby slippers from the Wizard of Oz, famed fashion designer Harris Reed collaborated with Lexus to make the most striking and sexy red rims in the automotive industry.  
The all-new 2023 Lexus RX stands-out among any other car in the industry with its gloss-sealed glittery polished ruby red Lexus logo, and LED lights, and dazzling Ruby Red Rims. The automaker's daring redesign of the all-new 2023 Lexus RX is an extension of the vehicle's launch campaign to never lose its edge. 
What if, in "The Wizard of Oz," Dorothy had ignored the advice to "follow the yellow brick road" and took the road less traveled? Reed and Lexus inspires drivers to veer off of the beaten path. "As a gender-fluid designer, I've always been fueled and inspired by choosing the path less traveled," said Reed. "With the bold new design of the Lexus RX and the cinematic Hollywood classic, "The Wizard of Oz," I took inspiration from the literal interpretation of choosing your own path and pursuing a new journey down the red brick road, with a nod to the film's iconic ruby slippers and my own designs."
The backs of the rims are made of solid aluminum and feature gloss-sealed glitter. In the center sits the ruby core and Lexus logo, embedded in a polished ruby red color, and powered by LED lights that bring them to life.
Different angles, a signature spindle grille and jewel-like headlamps evoke power and grace. The Ruby Red Rims RX will make appearances throughout the country later this year and next year. For more information on the 2023 RX visit your nearest Lexus Showroom. 



[ad_2]

Source link