[ad_1]

Words, photos and video by Dan & Zora Avila
So many of Australia's remarkable treasures are isolated by the tyranny of distance and forces of nature.  Extraordinarily powerful events and ancient secrets are hidden from all but a privileged few, fortunate enough to be guided through Australia's Kimberley coast, aboard vessels like The Great Escape.  The ultimate offering is a two-week Kimberley adventure cruise, covering the entire Kimberley Coast.  With a maximum of just 14 guests, this is a true 'choose your own adventure' through the kingdom of the mighty estuarine crocodile, experiencing a country so old that the rocks contain no fossils as the they predate vertebrate life.  All aspects of Kimberley coastal life are governed by the enormous tides, which are the second largest on earth.  This expedition adventure immerses the passenger in an ancient land where even guests can make new discoveries of awe-inspiring aboriginal rock art, lost for millennia.
For those seeking a barefoot luxury disconnection from modernity, this is the greatest escape.  
A helicopter with the doors off, a fabulous chef and Australia's most experienced crew of Kimberley explorers, all makes for the very best adventure that Australia has to offer. 
Although guests often hike or take heli-trips to the many incredible waterfalls and secret swimming holes, the Great Escape is designed to get up close and personal with the landscape, placing the bow of ship under waterfalls for a refreshing dip.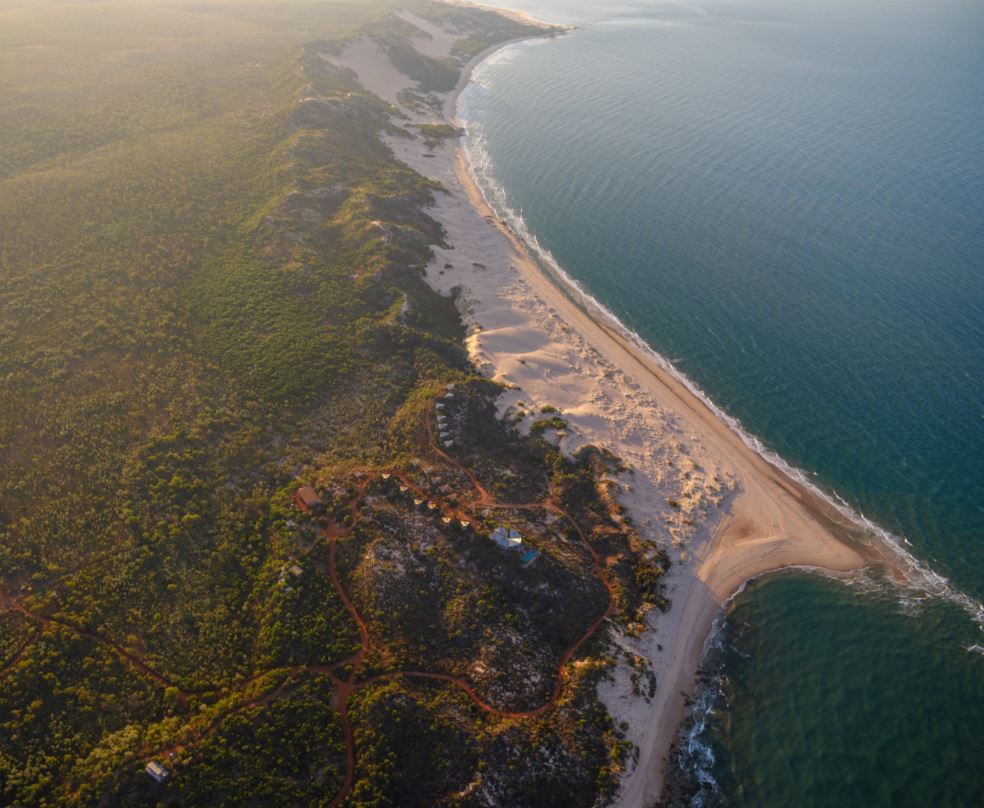 Over two weeks expedition, there is little evidence of any civilization, except the remote Berkey River Lodge.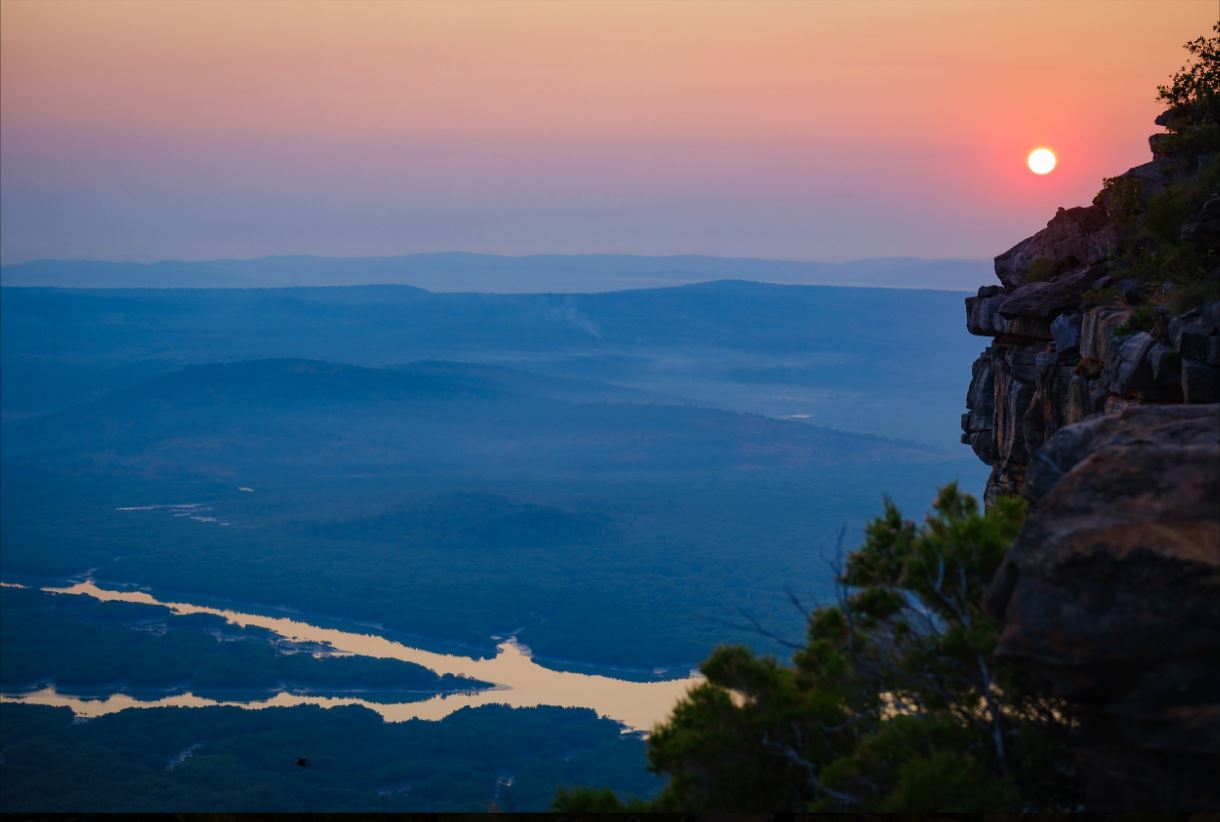 Calm conditions, distant fires and the ever-present, iron-rich dust that hangs low in the sky ensures extraordinary sunrises and sunsets in the Kimberley.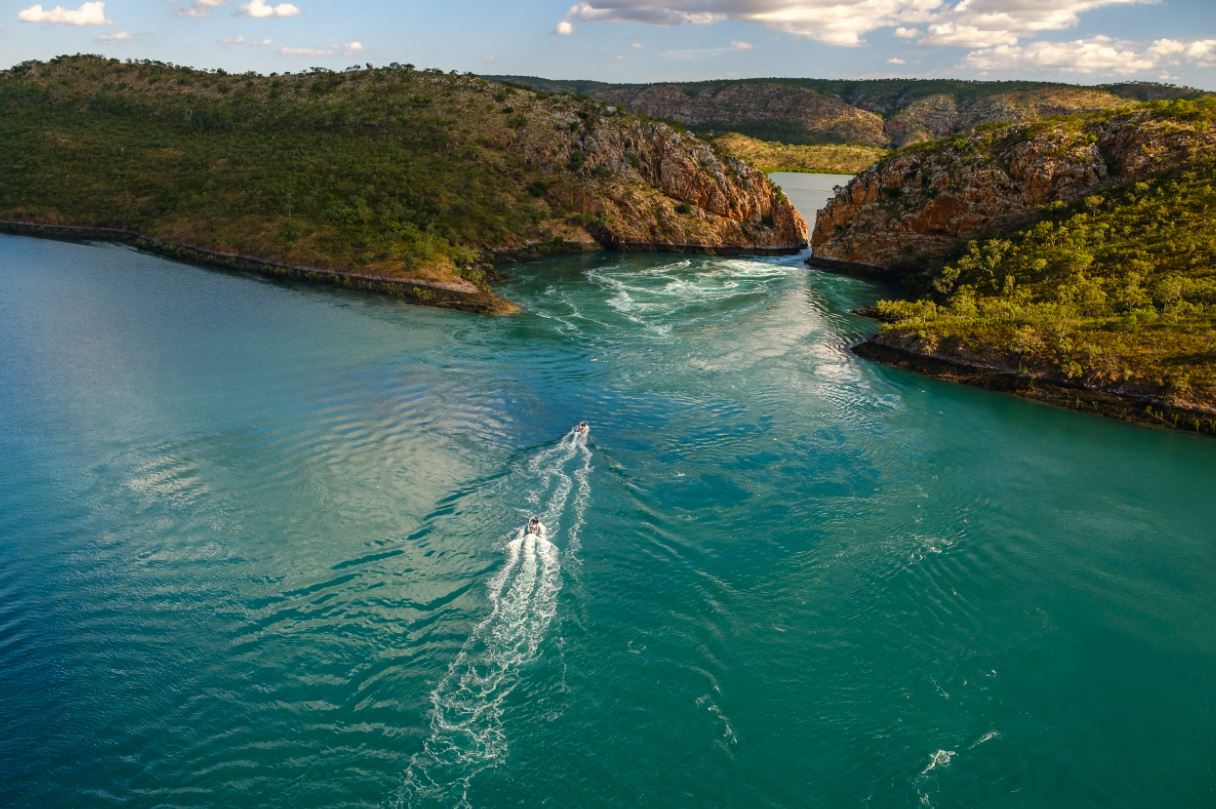 Sir David Attenborough considered this site to be a wonder of the natural world.  Driven by enormous tides, an inland sea attempts to empty itself daily through two narrow passes in the rock resulting in formation of the powerful "Horizontal Waterfall".  From the helicopter, it is an impressive site, but from the tender boats passing through the gap, there is a feeling of absolute raw power.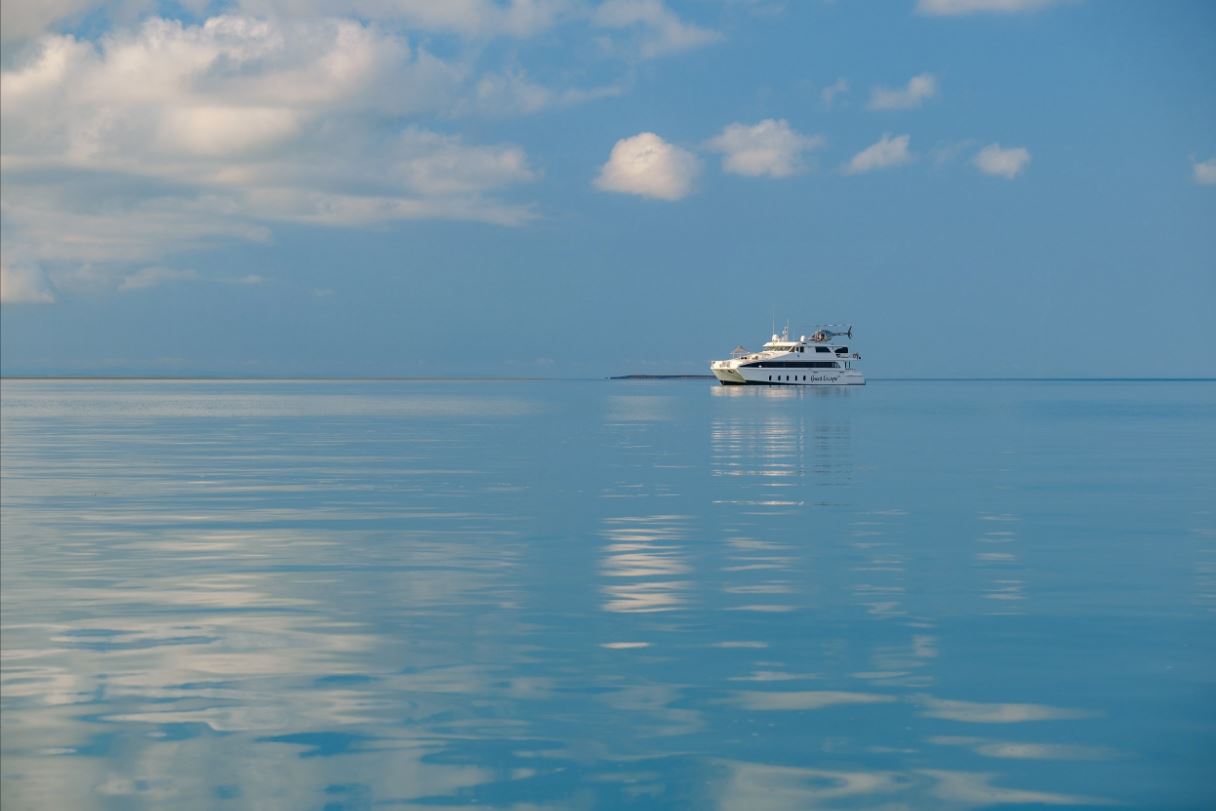 For travellers that are nervous about ocean voyages and less than excited about tumultuous seas, the Kimberley coast with its protected waterways, offers calm sailing with often glassy conditions.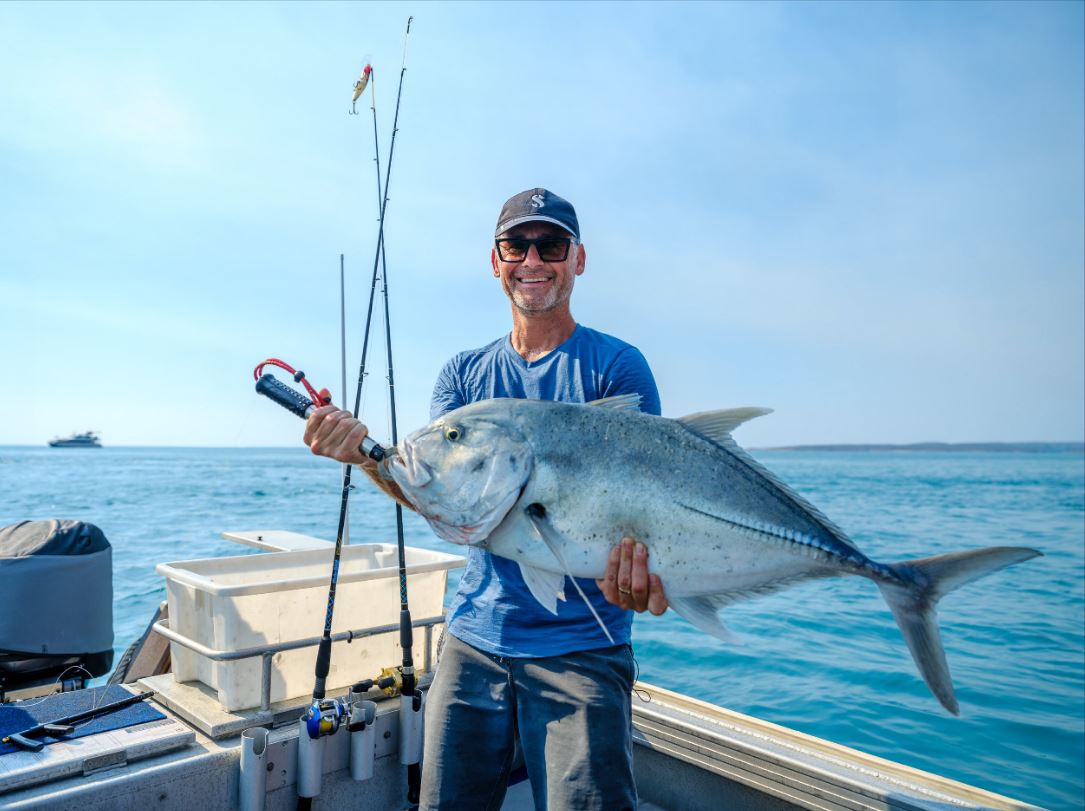 The untouched Kimberley waters are pristine and teeming with life.  The chef insists on the best fresh-caught fish daily, and guest are only too happy to oblige.  From the mighty barramundi to the finest bluefin tuna and myriad other prized species (like this giant trevally), fresh fish is always on the menu.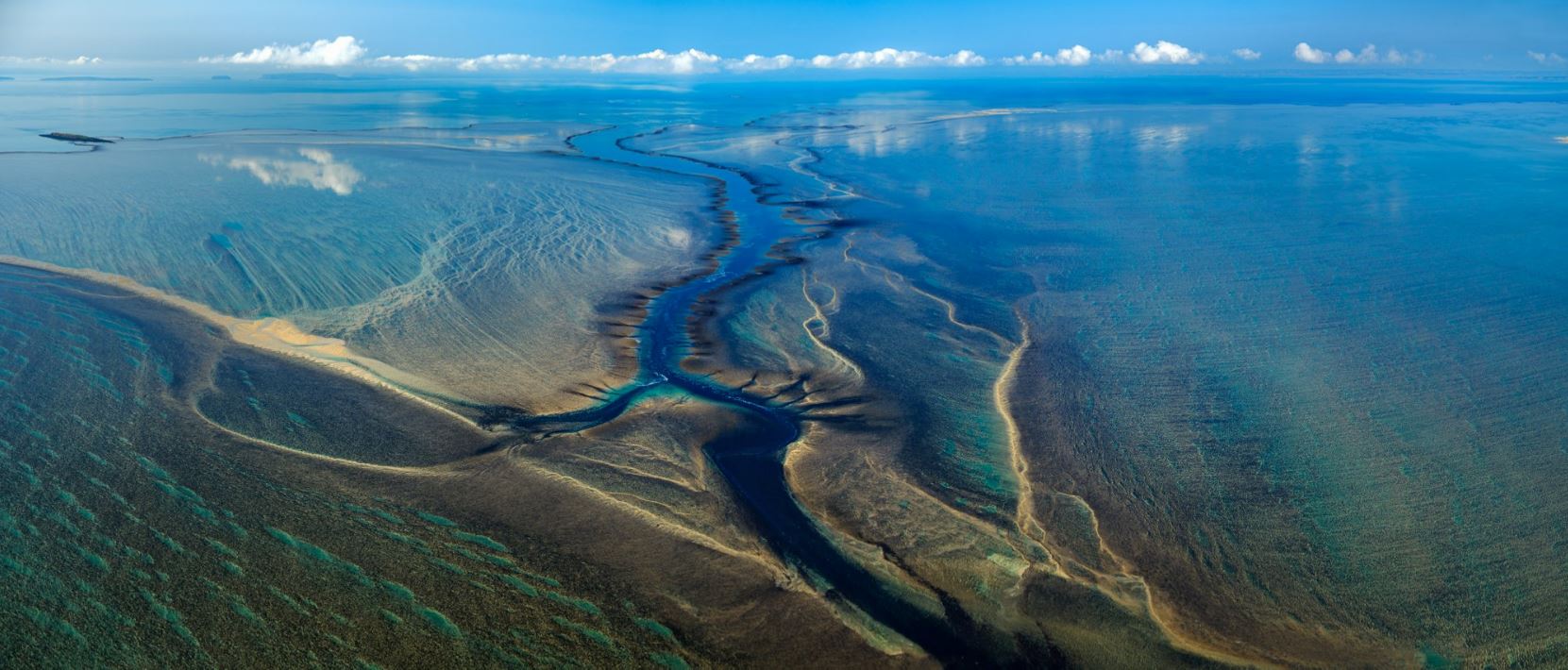 The mighty Montgomery Reef is a powerful demonstration of Kimberley tides.  At low tide, this enormous reef system appears to rise from the depths, with the escaping ocean forming thousands of white-water torrents and deep, navigable channels.  From the helicopter high above, the result is an artistic array of green and blue with spectacular patterns.
 Words, photos and video by Dan & Zora Avila


[ad_2]

Source link