[ad_1]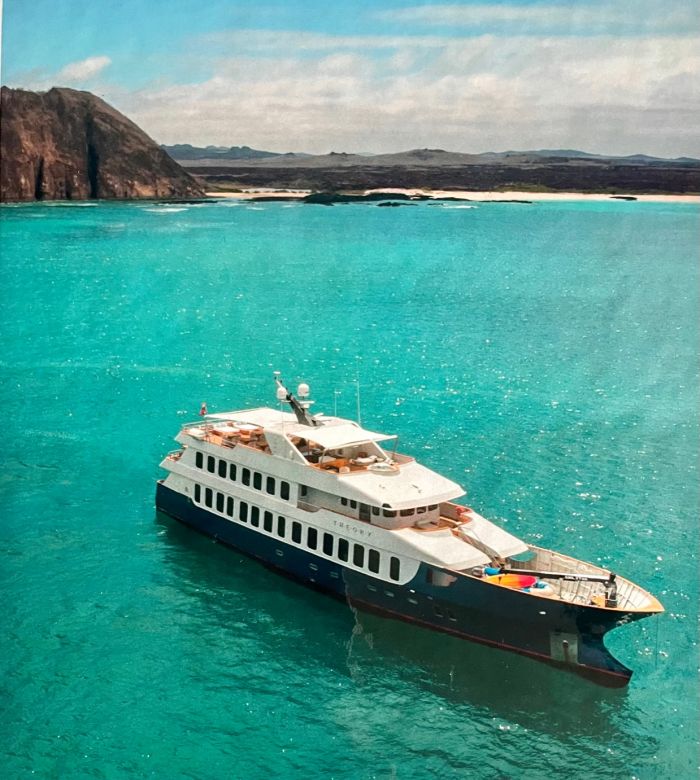 Johnny Ogilvie (Ecoventura)
As an award-winning leader in sustainable cruise travel, Ecoventura adds Evolve, a new luxury yacht to it's fleet. This is the only Galapagos vessel to join the ranks of the esteemed Relais & Chateaux collection.
At a recent dinner in Los Angeles, Ecoventura CEO Santiago Dunn shared why cruise travelers prefer smaller expedition journeys. "Beaming traveler feedback and a growing demand for the highly, personalized, upscale experience aboad Origin and Theory, led us to pursue our third luxury vessel," said Dunn. "With Evolve, we continue to combine luxury and sustainability while providiing intimate access to some of the most breathtaking corners of the archipelago."
Dunn was born and raised in Guayaquil and studied finance at Boston College before receiving his Master's from Montreal's Concordia University. He is an active member of the Charles Darwin Foundation and Ecuador's National Council of the WWF.
These smaller ships, Origin, Theory and now Evolve leave a smaller footprint in the area than many of the larger expedition cruise lines. Each ship has one concierge and two guides for only 20 passengers onboard.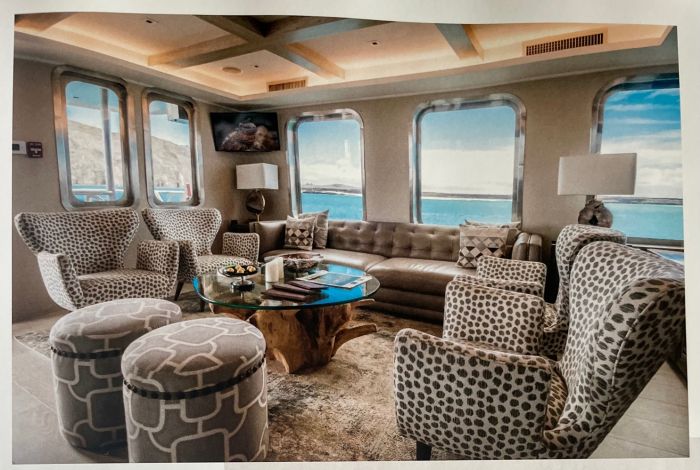 Johnny Ogilvie (Ecoventura)
The 142 foot mega-yacht is built for beauty, efficiency and stability. Its curved bow is engineered to cut through waves for smoother sailing.
Light filled spaces inside the vessel include a comfortable and stylish lounge for guests to relax with a book, or listen to the evening briefings and enrichment talks led by naturalists.
Departures are every Sunday for two of the most immersive and exclusive 7-night itineraries. The Volcanic Wonders visits many of the Northern and Western sites in the Galapagos National Park and the Beaches and Bays sails South and along the Central route. Both itineraries provide up-close experiences with wildlife on land and in the ocean. Naturalists enlighten passengers on how many of these species are endemic to the archipelago. 
Hike alongside cliffs, snorkel and swim with native turtles, sea lions, endemic marine iguanas and maybe even a penguin or two. During the dinner, Dunn shared a story of how he was snorkeling and felt something hop on his back. Thrashing in the water to get back to the ship, others around him yelled that he had a penguin riding on his back. These are one of many fascinating wildlife stories Dunn shared.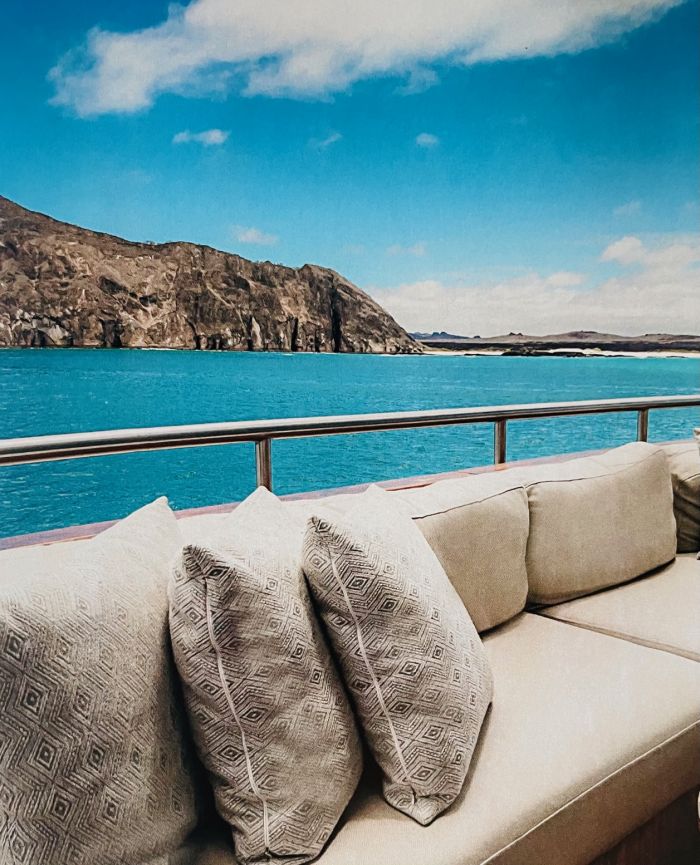 Johnny Ogilvie (Ecoventura)
Meals can be enjoyed on the sundeck or in the comfort of the ship's dining room. The menu is curated from ingredients that are sourced locally. Guests have the option to try some local dishes or enjoy a grilled al fresco lunch on the deck. In the evening, the culinary team prepares an elevated four-course dinner that achieves Relais & Chateaux expectations.
While on the sundeck, guests can view the islands while relaxing on chaise lounges or comfortable daybeds. It's easy to cool off after a day of snorkeling at the outdoor shower or back in your luxe stateroom. There is also a hot tub on deck to enjoy a glass of champagne while watching the sunset.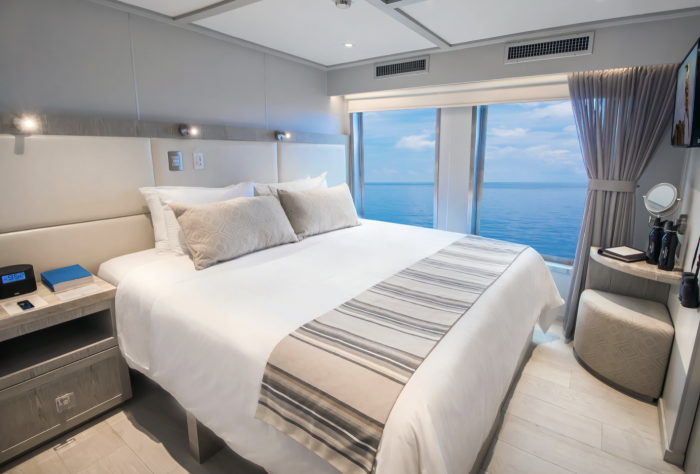 Johnny Ogilvie (Ecoventura)
Sophisticated and modern staterooms include memory foam mattresses, fine linen sheets, and comfortable pillows. Bathrooms have a walk-in shower and luxury bath amenities.
There is a small library of books for guests and a shelf with games for evening entertainment. The gym is equipped with cardio equipment and yoga mats. Guests can take a mat up on the outdoor deck to stretch in the fresh warm air.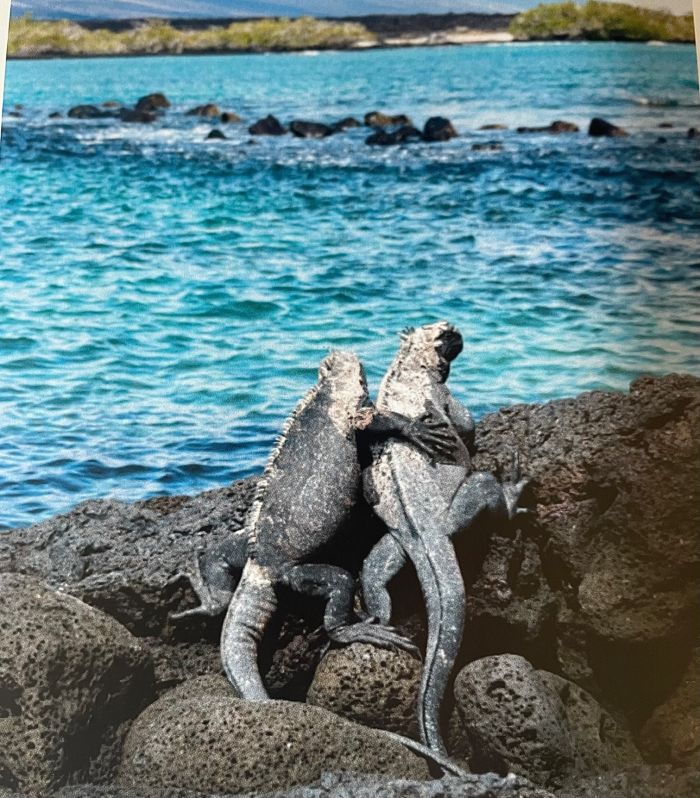 Johnny Ogilvie (Ecoventura)
Recently Ecoventua has taken the extra steps towards sustainability. Each cabin has reusable water bottles to refill to avoid an abundance of plastic. The crew now collects all plastic, glass and cardboard onboard and flies it from San Cristobal to Guayaquil to be recycled, rather than leaving it all behind to be recycled in the Galapagos.
In the 30+ years that Ecoventura has been in operation in the Galapagos, the company has supported many organizations that work tirelessly to protect the unique ecosystem, such as the Charles Darwin Foundation. This non-profit is dedicated to conducting scientific research in the Galapagos.
Beyond Ecoventura's conservation efforts to protect the wildlife, they give back with 'Pack with a Purpose, supporting the community by raising money for various initiatives. Ecoventura also encourages travelers to bring educational supplies with them to be donated to schools and projects that benefit those living in Galapagos.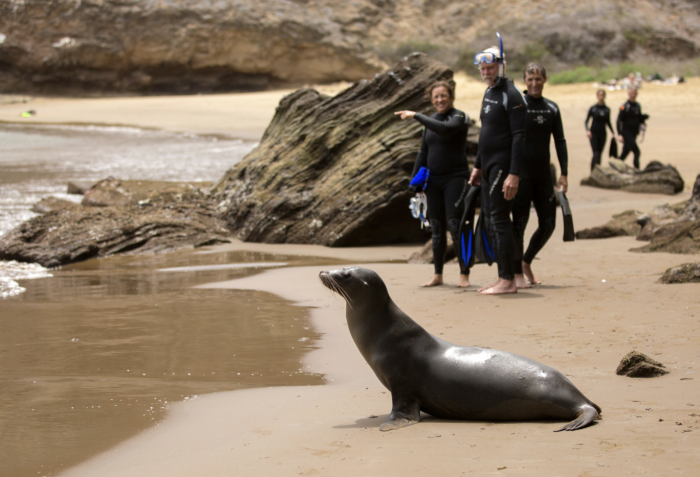 Johnny Ogilvie (Ecoventura)
Ecoventura cuises rates start under $10,000 per person and includes tansfers in the islands between the airport and the dock. All meals, snacks and beverages including wine and spirits are included, plus the Captain's welcome and farewell social gathering. Guided shore excursions, snorkel equipment, glass bottom boat rides, stand-up paddle boards and sea kayaks are also included. The ships have satellite WiFiLuxury. For those looking to charter one of the boats for 20 people, the price starts at $179,000. Rates are available now through 2024.



[ad_2]

Source link