[ad_1]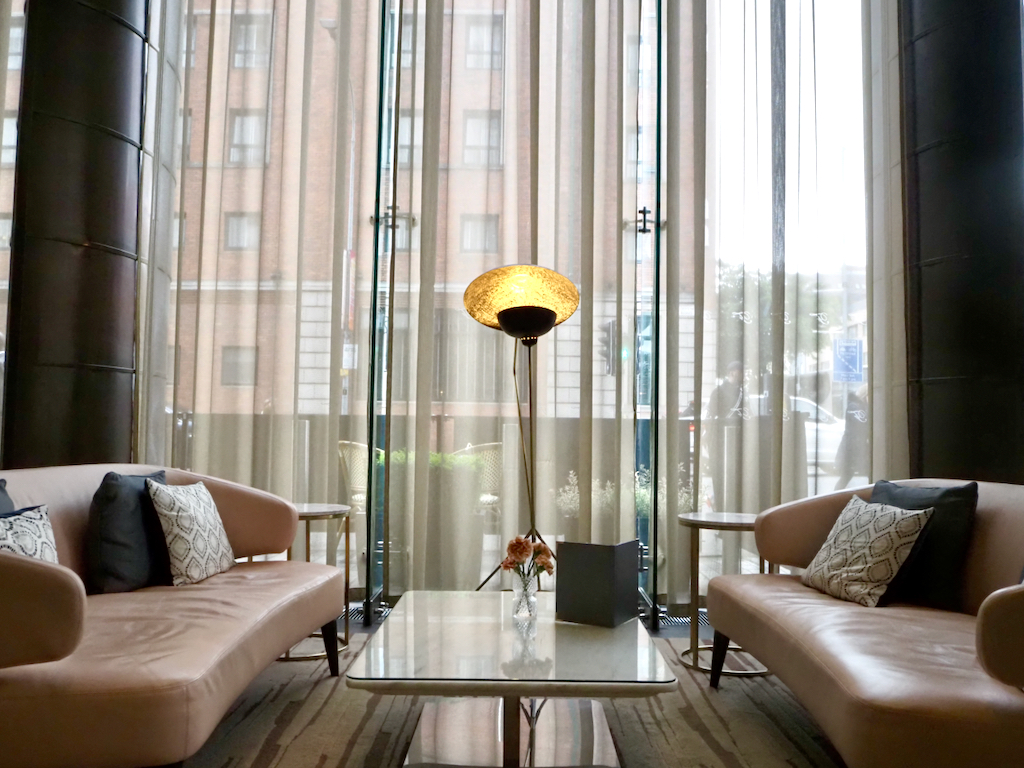 Columbia Hillen
When suave doormen impeccably dressed in silk suits and top-hats greet you warmly at the door, you know you're in for a treat.
That's the initial impression upon arriving at the 146-room, 5-star Fitzwilliam Hotel in Belfast, capital of Northern Ireland. And it's one that lasts.
Located beside the Grand Opera House on Great Victoria Street in the heart of the downtown area, it's hard to imagine a more convenient place from which to explore the city's sights.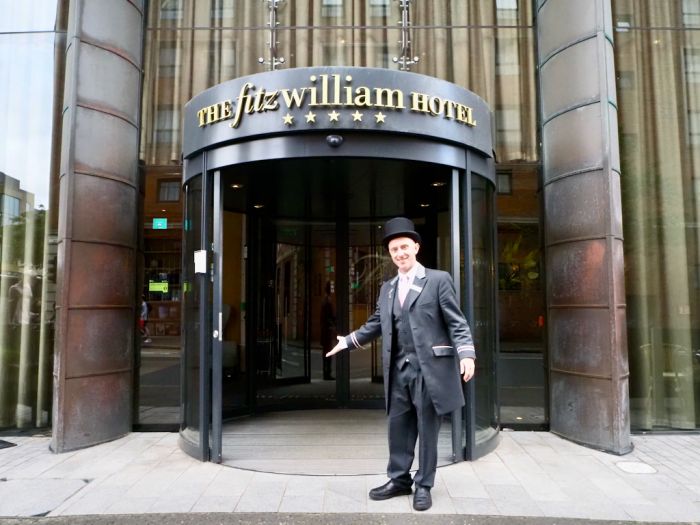 Columbia Hillen
Enter from one of two separate entrances off busy streets and you're met by a spacious lobby featuring plentiful seating and two impressive sets of book shelves comprising a wide diversity of reading matter, from novels and biographies to photographic books depicting the history of Belfast, and Ireland in general, as well as the nation's sporting successes in rugby and soccer.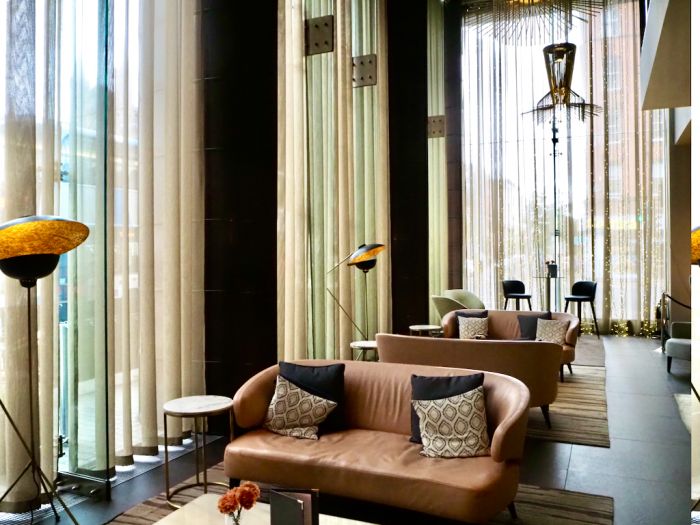 Columbia Hillen
The color scheme is a vivid, eye-catching one, with leather couches, wall-padding and the backdrop to the reception desk all in pink contrasting with gray floor-tiling, wall columns, carpet and soft, throne-like seating. Twenty-foot high-glass walls face the Grosvenor Road, one of Belfast's main thoroughfares. An open gas-fed fire adds a touch of homey comfort. Upstairs, ambient-lighted corridors, mirrored doors and vintage wall lamps harken back to a bygone era, a golden age in the colorful life of this friendly northern Irish city cradled by the Black Mountain and the River Lagan. Vintage rotary dial telephones in the rooms add to the sense of nostalgia.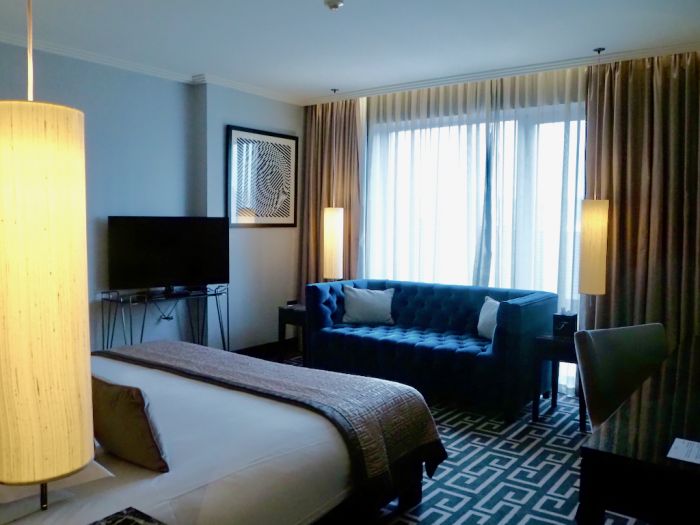 Columbia Hillen
Our room, 711, offered panoramic views not only over the downtown area, but more specifically over the imposing Victorian twin green towers over Inst, a historic 19th century college, and, on the near horizon, to a geological feature known locally as 'Napoleon's Nose' jutting out from rolling, grassy mountain slopes.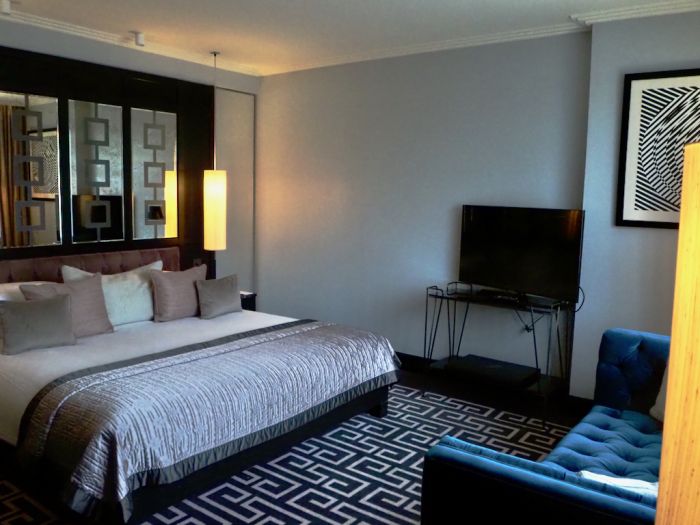 Columbia Hillen
Comfortable furnishings included a turquoise Queen Anne style sofa, a large TV, a long writing desk with smoked glass panels above and four elongated hanging ceiling lamps either side of the room. Interestingly, the black desk and headboard, even the television stand and charcoal carpet reminded me of chic Coco Chanel ambience.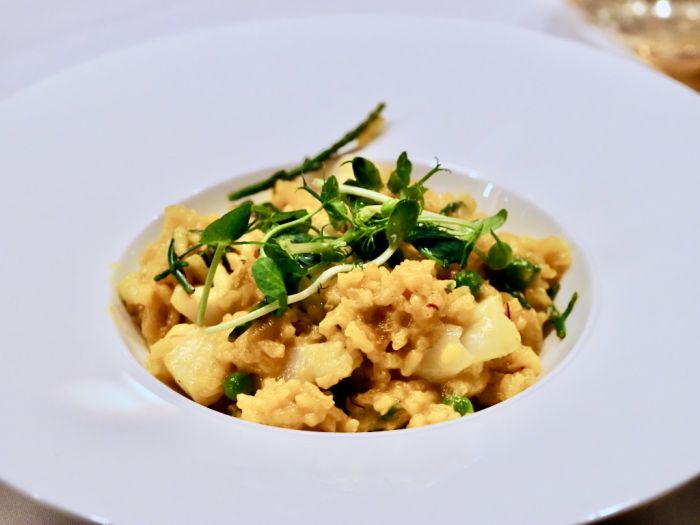 Columbia Hillen
Food with drinks are served at tall, crimson, angular Regal-like seating at long tables in the restaurant, with other guests at one end. Hanging rectangular-shaped lamps resembling window-sill pots with you'd imagine in a celebrity performer's dressing room. Colorful framed sketches of various well-known Irish drinks such as Bushmills whiskey and Guinness line the walls.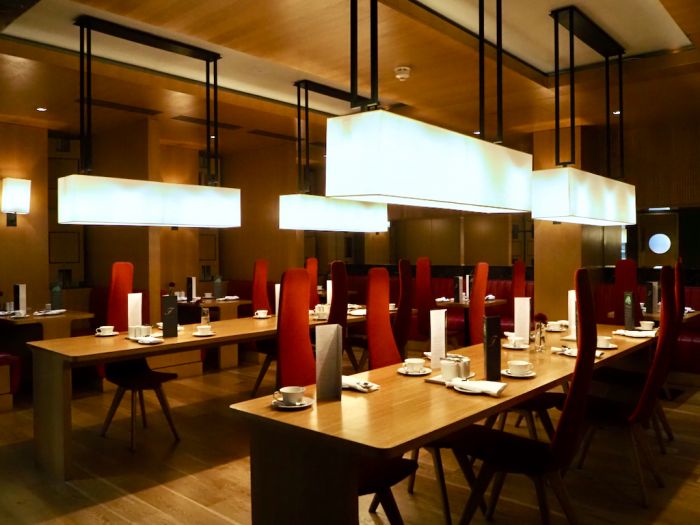 Columbia Hillen
Steak, salmon, venison, hake, duck… the menu is a generous one. After a long day's journey from France, I chose a starter of basil and olive marinated burrata with crispy prosciutto, rocket leaves and sourdough bread and a sizzling sirloin as a main with bone marrow, butter, roast plum tomato, portobello mushroom and Béarnaise sauce. So tender was the meat, there was barely need for a knife. I chose my entree in part because of the intriguing accompaniment – boxty,  a tasty traditional Irish dish of mashed and grated pan-fried potatoes in a thick buttermilk batter, a cross between hash-browns and pancakes.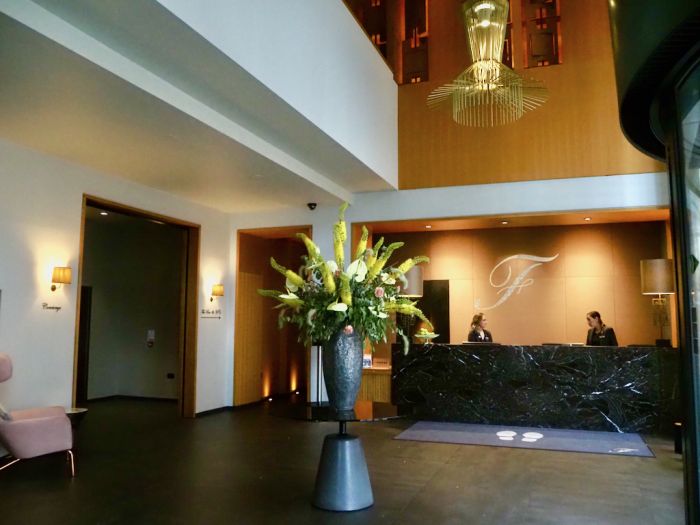 Columbia Hillen
Other entree options include compressed pork belly, duck breast with confit leg, pan fried sea bream fillet with prawn and dill croquette and rack of Irish lamb marinated in Ras El Hanout spice mix of cardamom, nutmeg, anise, mace, cinnamon, ginger, various peppers, and turmeric.
Though late at night, I could not resist a delectable dessert – chocolate and nutella fondant with vanilla bean ice-cream. The chocolate was the dark variety, the healthier kind, which helps me overcome any pangs of guilt I might suffer (rare though they are). I once read that dark chocolate contains serotonin, which helps relax both body and mind, and I'm sticking to that belief.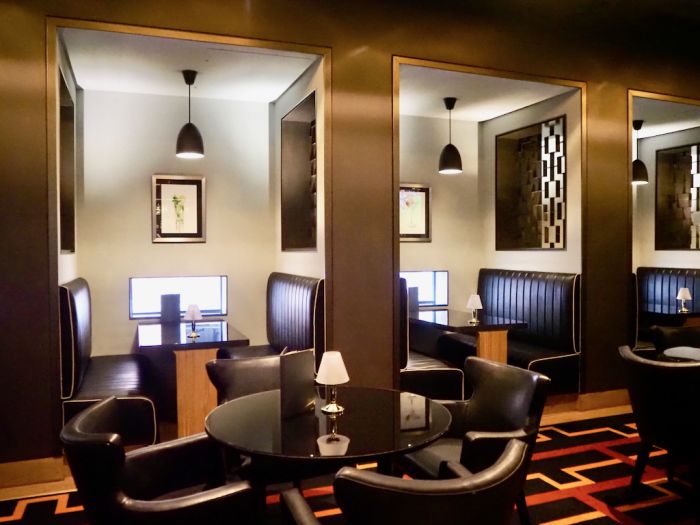 Columbia Hillen
Private dining is also available for groups of up to 22 guests. 
Aside from classic cocktails I was impressed with the local drinks on offer  – especially gins and whiskies, the former from nearby towns such as the Shortcross brand from Downpatrick in county Down and May Loag from Old Carrick in Monaghan; and the latter being Lir from a distillery in the Glens of Antrim and Titanic Distillers in Belfast.
Beers also have strong local flavour – including lager and ale from Whitewater Brewery in the nearby rural town of Castlewellan. The wine selection traversed countries as diverse as Romania, Portugal, Italy, Spain and Argentina.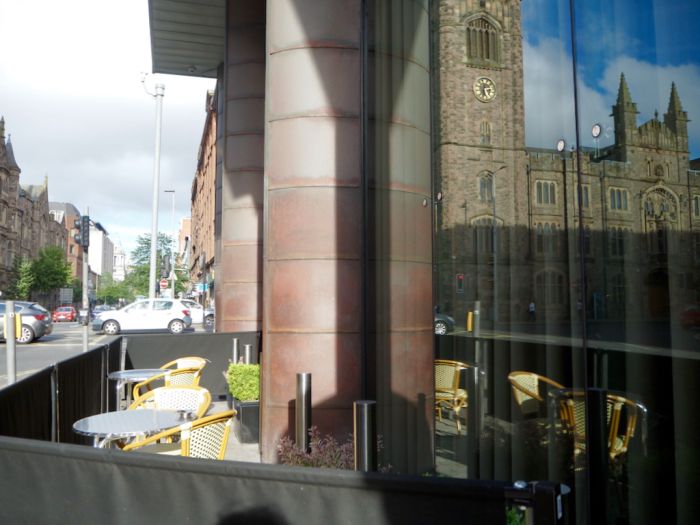 Columbia Hillen
Breakfast is also substantial with a host of options aside from the buffet, including the 'full Irish.' There's no need for lunch, maybe not even dinner, after this mountain of sausage, bacon, eggs, tomato, black and white pudding, mushrooms, and more.
For the more disciplined, the healthier version is toasted sourdough bread with smoked salmon, avocado, garden herbs and free range eggs, or even the 'fresh catch,' kippers and smoked haddock.
Lacking a spa, gym or pool, The Fitzwilliam Hotel does have a ground-floor cocktail bar, a cosy space of tea-lights and intimate snugs, with live weekend music.
Belfast is an unhurried, charming city well worth visiting and The Fitzwilliam Hotel is well worth considering as a choice accommodation option.



[ad_2]

Source link